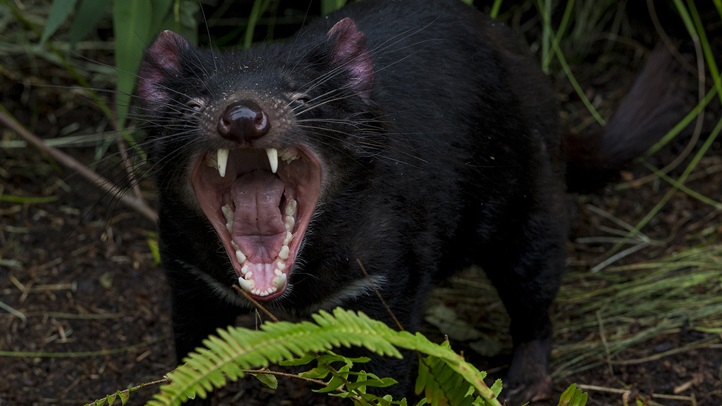 A FEW QUESTIONS: Look, we know and understand that you want to get straight to the Tasmanian Devil portion of this particular program, because, well, Tasmanian Devils. The mere name delivers a flutter to the animal lover's heart. But we have a few quick questions.
1. Was your first experience of Tasmanian Devils a certain animated, self-cycloning beastie with a propensity for merry-mad behavior?
2. If so, can you describe an actual Tasmanian Devil, and, moreover, their genus?
3. Are there four better names for Tasmanian Devils than Conrad, Nick, Debbie, and Jake? (Answer: no.)
4. What's the only zoo in the United States to see the endangered Tasmanian Devils?
LET'S ADDRESS THAT LAST ONE, LICKETY-SPLIT: It's the San Diego Zoo, which is now home to four Tasmanian Devils named, wait for it, Conrad, Nick, Debbie, and Jake. The foursome hailed from the Taronga Western Plains in Australia, and, after a period of quarantine, they made their U.S. debut at the zoo's Conrad Prebys Australian Outback on Thursday, Oct. 24.
As for Question 2? Tassies are marsupials, of course. The sharp-toothed, small and fairly squat animals do love their carnivorous, active lifestyle. They do seem cuddly -- zoo visitors will probably say they're reminiscent of their pet dog, cat, or rat back home -- but the devils come by their memorable moniker for a reason. They're distinctly adorable but very unpetlike.
And, yep, Taz of "Looney Tunes" has done much for Tassies, as have various businesses and sports teams in Tasmania. If only every animal that needed some conservation care could have the pop culture love like the Tassie has it.
Want to know more about Saving the Tasmanian Devil? You can help.
Copyright FREEL - NBC Local Media