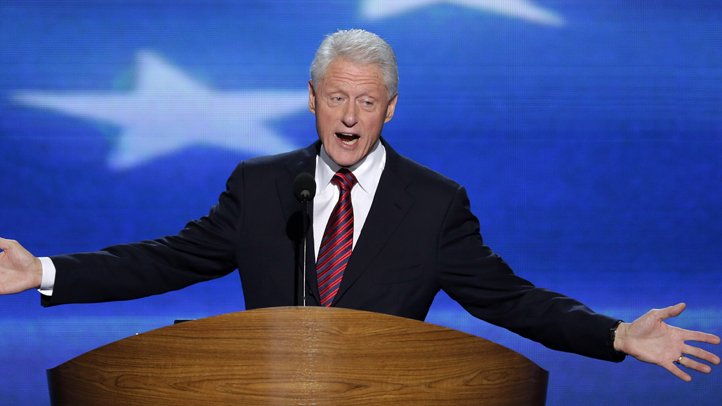 Bill Clinton is a master at campaigning, so it's no surprise the Democrats tapped him as the headliner Tuesday at a political rally on the U.C. Davis campus. But his appearance in Northern California, in front of students who were mostly aware of him from their parents' descriptions, has nothing to do with the race for the White House.
After all, there's no mystery how the state's presidential vote will turn out, once California voters head to the polls next month. No Republican standard-bearer has carried the state since 1988, when George H.W. Bush beat Michael Dukakis.
Instead, the real contest in Calilfornia has to do with who will control the House of Representatives next year.
Newly-drawn boundary lines and California's new open primary system have injected some genuine uncertainty into a handful of House races. Instead of the predictable narrative in which the incumbent always wins, there's some drama.
Rep. Dan Lungren, R-Gold River, a longtime fixture in California politics, is facing a tight re-election contest in a rematch with Democrat Ami Bera. Rep. Jeff Denham, R-Atwater, is also facing a strong challenge from former astronaut Jose Hernandez.
There is a threat to Democrats as well. Rep. Jerry McNerney (D-Stockton) has a strong opponent in Republican Ricky Gill. And Rep. John Garamendi, D-Walnut Creek, is facing Republican Kim Vann.
All of these races are filling the air waves, with heavy spending by the national parties and Super PACs.
Enter Bill Clinton.
Nationwide, if the Democrats win 25 seats, they can retake control of the House. That's why the nation's 42nd president took the stage at U.C. Davis on Tuesday, speaking for nearly a half hour to a receptive crowd. McNerney, Garamendi, Hernandez and Bera are all hoping to benefit from Clinton's talent in the political hothouse of these final campaign weeks.
Clinton, as is his habit, focused on policy, addressing the cost of MediCare and denouncing the Supreme Court's Citizens United decision, which has unleashed enormous amount of super PAC spending this year. He also spoke in favor of Prop 30, Gov. Jerry Brown's school tax measure.
Clinton is no stranger to Northern California. When he was president, Air Force One touched down so frequently at McClellan Air Force Base that it become unofficially known as the West Coast hangar for the jet. And once daughter Chelsea enrolled at Stanford, the presidential visits became even more frequent.
Clinton's appearance at Davis reflects his star power in the Democratic Party.
Fresh off a prime speech at the Democratic National Convention in Charlotte, he's working a California-specific concern: the fate of a handful of seats that could be pivotal in who controls the House in 2013.
After all, Clinton remembers well what it was like to deal with an opposition-led House during his White House years.