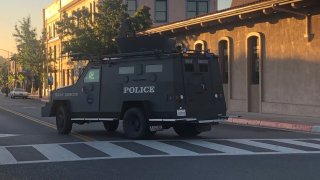 A body was discovered Wednesday morning on railroad tracks in Paso Robles as authorities searched for a gunman who opened fire in the Central California community's downtown area, injuring a sheriff's deputy.
The San Luis Obispo County Sheriff's deputy was in serious, but stable, condition, according to the sheriff's department.
During the search for the shooter, authorities said a man was found dead on railroad tracks. The death is being investigated as a homicide in connection with the earlier shooting.
The body was found near an Amtrak train station. The man had been shot in the head at close range, authorities said.
It was not immediately clear when the man was shot.
People in the downtown area in the community off the 101 Freeway were asked to shelter in place due to the search for the shooter. Armored SWAT vehicles responded to the neighborhood.
No arrests have been reported. The shooter was described only as a man in his 20s or 30s.
The Associated Press reported that the shooter opened fire on a police station.
A motive was not immediately determined.
The shooting began at about 3:45 a.m., and the gunfire continued for several minutes. The San Luis Obispo County Sheriff's Department tweeted about the search for the shooter Wednesday around 6:30 a.m.
Paso Robles, straddled by wineries on both sides of the 101 Freeway, is roughly halfway between Los Angeles and the Bay area.