An Uber driver and married father of two young children was shot and killed in a Lynwood 7-Eleven parking lot early Friday by passengers who left the scene in his car.
The victim was found dead at about 1:30 a.m. outside the store in the 2800 block of Imperial Highway. Deputies said there appeared to have been a struggle between the driver and two passengers before the shooting.
The driver picked up the two men and brought them to the 7-Eleven, deputies said.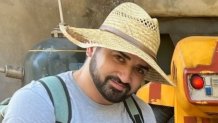 "At which point, he was shot, gunshot wounds to the upper body," said LA County Sheriff's Lt. Michael Modica.
At least two gunshots can be heard on security camera video provided by a neighbor.
The attackers left in the Uber driver's car, which was found in a nearby neighborhood. No arrests were reported. Detailed descriptions of the attackers were not immediately available.
Sandra Medina arrived at the scene Friday morning and identified the man as her husband, 38-year-old Aaron Orozco, a Marine who graduated from Lynwood High School in 2002. She said he began driving for Uber about four years ago.
"He was an awesome father," Medina said. "He was a great person, very positive. He always made everybody around him happy. He's just a joyful person, very positive, a great father, great family man, great person."
Medina said they last spoke around 10 p.m. Thursday. Four hours later, she was notified he had died.
The couple have a 9-year-old son and 3-year-old daughter. Orozco was stationed at Camp Pendleton north of San Diego from 2001-2005 and served in Iraq, family members said.
In a statement, Uber said it is assisting police with the investigation.
"Our hearts are with Mr. Orozcofigueroa's family as they cope with this unfathomable tragedy, and we are reaching out to offer our condolences," Uber said in a statement. "We banned the rider's account and are working with police on their investigation."
Anyone with information about the shooting was asked to call the Sheriff's Homicide Bureau at 323-890-5500. Anonymous calls can be made to Crime Stoppers at 800-222-8477 or sent to Crime Stoppers.