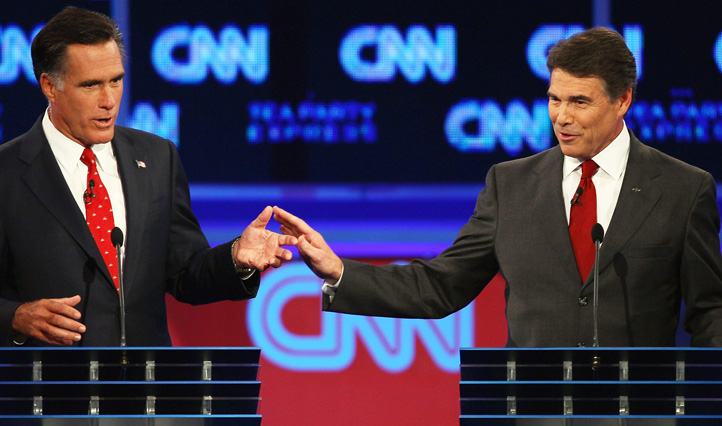 The conventional wisdom is that California is unimportant in presidential contests.
The state's primary is now so late -- in June -- that the nomination is likely to be wrapped up before then. And in the general election, the state is so solidly blue that the Republican presidential nominee won't bother spending time or money in California.
But, after talking to Republicans gathering for the state party convention in Los Angeles this weekend, I'm convinced that the conventional wisdom needs updating.
Yes, the California primary won't matter and the GOP doesn't have a chance of winning the state's 55 electoral votes. But California -- and Californians -- could well be decisive in the presidential election.
How's that? Technology has changed the nature of elections -- of fundraising and especially of turnout operations. Presidential elections are national in every conceivable way. And since there are so many Californians, it's crucial for each party to win the battles for money and volunteers in the state.
Jon Fleischman, California GOP vice chairman and publisher of the conservative political site FlashReport.org, said during a convention panel that social networking, in particular, has changed the game.
California volunteers, operating from their homes, can reach and help turn out voters, via Facebook and Twitter (and by phone for that matter), in battlegrounds such as New Hampshire, South Carolina and Florida.
Donors can give from California as easily as a battleground. And there are so many Californians -- the state still has more Republicans than any other state -- that an army of California volunteers could turn the tide in the primaries, and even the general election.
So Californians who care about the outcome of the presidential race shouldn't sit on the sidelines, thinking that their state doesn't matter. The race won't be won in California's own elections, but the race can be won in California.
Let us know what you think. Comment below, send us your thoughts via Twitter @PropZero or add your comment to our Facebook page.