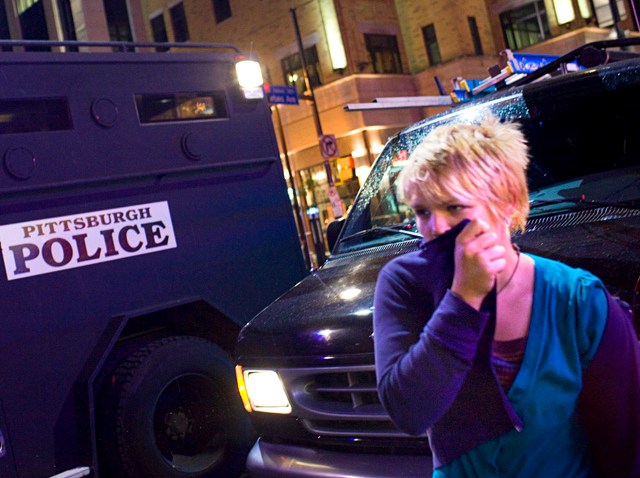 Cops in Pittsburgh arrested 66 protesters and braced for a huge march through downtown as the leaders of the world's 20 largest economies met for a second day.
Anti-war, anti-capitalist and environmental groups, all linked by opposition to the policies of the G-20 contries, vowed nonviolence for their afternoon march, for which the city issued a permit. Organizers estimated there will be 5,000 marchers.

Earlier, cops arrested 66 people after 19 businesses were vandalized around the city. Anarchist groups were encouraging their ranks to use today for small "actions" against corporate outlets, banks and check cashing stores. On Thursday, police arrested 42 people and protesters broke windows at 14 businesses.
Meanwhile, world leaders were indoors crafting a plan to make bankers tie bonuses paid out to executives to risks and also to make them increase their reserves for losses. The leaders agreed to continue funding stimulus plans until the worldwide recession is reversed.
"We are not going to walk away from the greatest economic crisis since the Great Depression and leave unchanged, and leave in place, the tragic vulnerabilities that caused this crisis," Treasury Secretary Timothy Geithner said.

Get more: Pittsburgh Post-Gazette, Bloomberg News