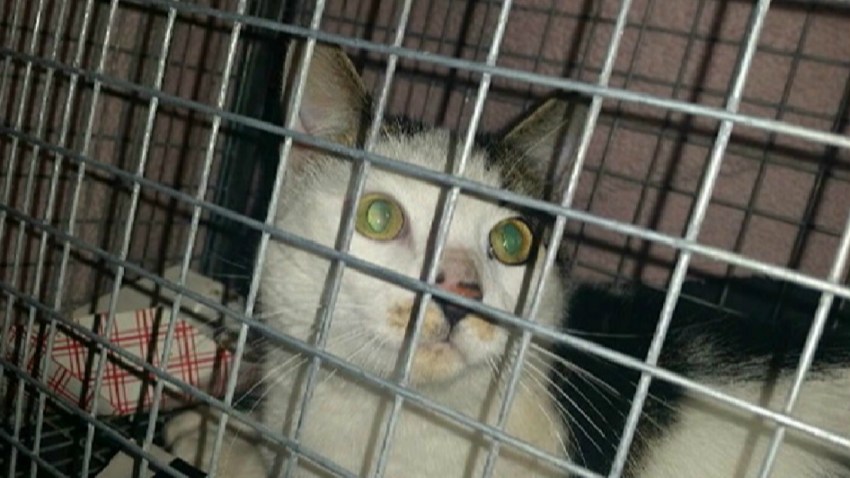 Rescue workers Friday night found the cat scalded with scorching water in a disturbing video that have prompted one arrest.
The cat was discovered behind the Chicago home where the alleged abuse took place, according to rescue workers. They trapped the cat and transported it to animal control. Rescue workers said they hope to take the cat to Felines & Canines animal shelter.
The video sparked nationwide outrage after it spread across social media.
Leon Teague, of the 6900 block of South Martin Luther King Drive, has been charged with one felony count of animal torture and one misdemeanor count of animal cruelty after a video was uncovered allegedly showing the 18-year-old luring a cat on a porch and dousing it with boiling water, according to police. It wasn't clear if he had an attorney.
In the video, a white cat with black spots can be seen near a blue litter box and a feeding tray on the rear porch of a home with someone behind the camera holding a black pot with hot water. The person in the video can be heard making noises to get the cat to come in his direction and then, once it comes close enough, burning the animal.
Hit with the scorching water, the cat in the video immediately begins howling loudly before running for safety away from the porch.
The video was quickly shared across social media, outraging animal rights groups across the nation and prompting the police investigation.
Bail for Teague was set at $10,000, according to the Cook County Sheriff's Department. He's expected to return to court Feb. 11.