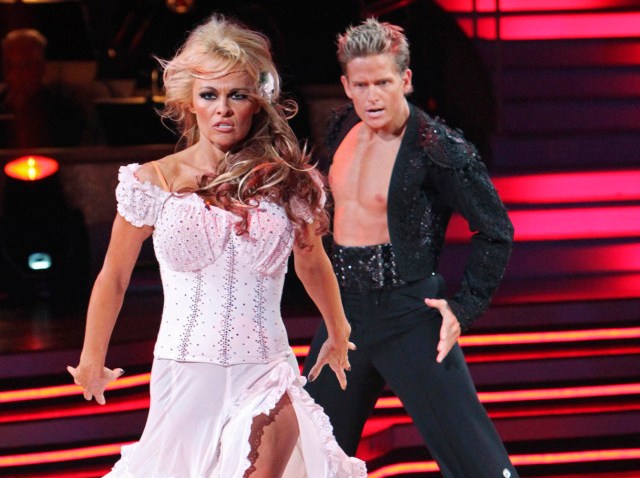 Pam Anderson might be fiercely competitive on "Dancing With the Stars," but her dedication alone isn't what kept her safe when Shannen Doherty went packing last week. Anderson has the help of a sizeable voting block: PETA supporters.
PETA publicized Anderson's anti-bull-fighting-themed dance on its blogs and Twitter, then encouraged PETA members and supporters to help keep the actress on the show. According to a PETA spokesperson, "Pam's tireless work to expose cruelty in the meat and fur trades has created a very emotional bond with PETA's two million members and supporters who are thrilled to see her and vote for her on 'Dancing with the Stars.' "
In other "DWTS" news, ESPN reporter Erin Andrews and professional dancer Maksim Chmerkovskiy are developing a romantic partnership in addition to their dancing partnership, according to In Touch Weekly.
"They have amazing sexual chemistry," a show insider told the magazine. "She is totally his type and he is totally the type of guy that she falls for."
The dancing duo have not confirmed that there is a love connection, but the source told the magazine that the two started seeing each other from almost the first week of rehearsals — and they were always the first to arrive and the last to leave.
Plus, they get along well in the kitchen: "Maks really likes to cook Russian food and he's been cooking for Erin," said the source. "They're both relationship-driven, so this is likely to be much more than just a fling."
J.Lo still Jenny from the block
From a TV and film perspective, things are going great for Jennifer Lopez. She'll have a guest spot on "Glee" this season, and her new film, "The Back-up Plan," opens on April 29. But that doesn't mean she'll be tearing it up in Hollywood to celebrate — she's not the same person who used to party with P. Diddy.
"I can't help but be a different person now that I've had kids," Lopez told Glamour magazine. "That really does change your whole perspective on life for the better. I definitely feel like I've grown up. So, I guess in a way parts of me are going to be different, but in general I'm still the same girl from the Bronx who had big dreams."
Lil Wayne watching over suicidal inmates
After several delays, rapper Lil Wayne finally began serving his prison sentence on March 9. Already, he's put up a blog that will allow him to communicate with fans (weezythanxyou.com) and now comes news that he's got a job.
"Wayne has a job. They got him on suicide watch for other prisoners," Toya Johnson, the mother of one of the rapper's children, told Us magazine. "He watches the crazy prisoners and makes sure they don't kill themselves."
According to Johnson, Wayne is doing well. "He's getting along with everybody."
Courtney Hazlett delivers the Scoop Monday through Friday. Follow Scoop on Twitter @courtneyatmsnbc.
Copyright MSNBC - MSNBC