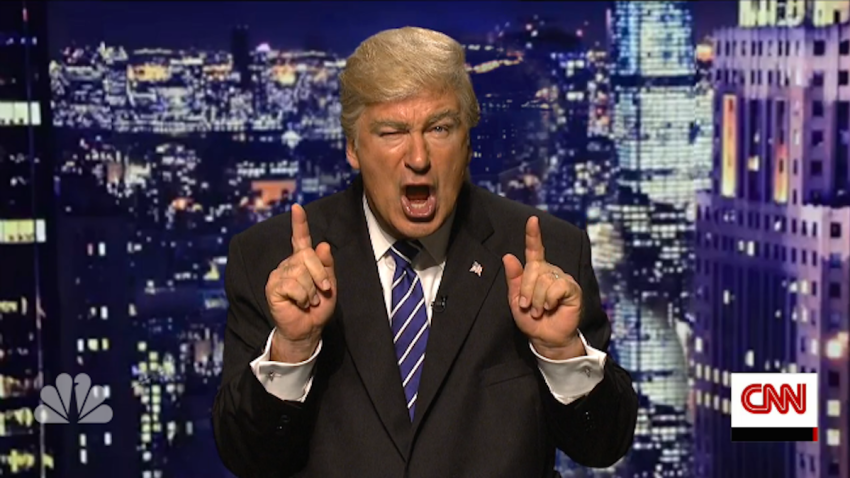 "Saturday Night Live" writers could save some work this week by having Alec Baldwin, in pursed-lipped Donald Trump mode, read the presidential candidate's tweet declaring himself the victim of a "hit job" by the show.
At least that way, Trump's words might actually sound funny.
After last weekend's skit depicting him stalking Hillary Clinton during their second debate, the GOP standard bearer wrote, in part: "Time to retire the boring and unfunny show. Alec Baldwin portrayal stinks. Media rigging election!"
The 7:14 a.m. Sunday missive suggested at least a few things: Trump, amid a punishing campaign over the future of the country, closely watches "SNL." Alec Baldwin, by seamlessly inhabiting the Trump persona, is getting under the candidate's skin.
Most significantly, Trump's tweet lumps satire into his growing, democracy-undermining claims that he's the victim of a plot to rob him of the presidency.
Trump, whose presidential run was initially viewed by some as a joke, now is tacitly leading a campaign against comedy – at least when the humor targets him.
One sign of a potentially larger backlash came Sunday when 200 audience members reportedly walked out of an Amy Schumer performance in Tampa after she cited Trump's response to the "SNL" sketch – and excoriated him as an "orange, sexual-assaulting, fake-college-starting monster."
The patrons, who paid hard-earned money to join the crowd at the Amalie Arena, exercised their right to leave, presumably either because the comedian bashed their preferred candidate or ruined their plans for some escapism.
Trump's reaction to "SNL" is both more absurd and troubling coming from a candidate determined to preemptively cast into doubt the results of an election polls suggest he's likely to lose.
His slamming of "SNL" also smacks of irony: He hosted the show last year, using the media that's supposedly among the forces colluding against him to boost his exposure, pre-primaries.
But the more he's in the public eye, the more Trump exposes himself in unflattering ways. The revelation of the 2005 "hot-mic" tape in which the then-star of "The Apprentice" cites his celebrity as carte blanche to accost women spurred not only widespread condemnation but provided fresh comic fodder for outlets from "Family Guy" (which incorporated excepts into its latest episode) to "SNL."
As Trump well knows, the NBC late-night comedy show began setting its sights on presidents and presidential wannabes with the 1976 Ford-Carter race. President Gerald Ford and 2008 GOP vice presidential candidate Sarah Palin, probably the two most scathingly lampooned U.S. political figures in "SNL" history, pre-Trump, had enough of a sense of humor to make cameos (Ford in a taped shot) during their respective campaigns.
Trump likely won't be making a return appearance before Election Day. We'll have to make do with Baldwin, who is expected to take the Studio 8H stage Saturday, likely to parody the third and final debate and the rest of the week in Trump World.
Many will be watching – including, perhaps, Donald Trump, who wants voters to take him seriously, but can't take a joke.
Jere Hester is Director of News Products and Projects at the City University of New York Graduate School of Journalism. He is also the author of "Raising a Beatle Baby: How John, Paul, George and Ringo Helped us Come Together as a Family." Follow him on Twitter.
Copyright FREEL - NBC Local Media