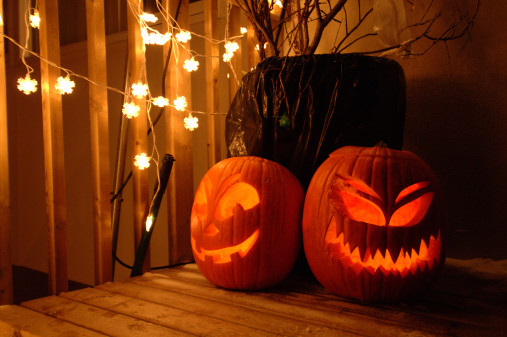 IT'S ALWAYS SPOOKY IN SOUTHERN CALIFORNIA: When you have the Whaley House in your backyard, and it is open year-round, it can be hard to believe that there's a time of year when the spooky factor is especially cranked up, like, say around Halloween. But that isn't the only time of year that things get a bit frightful around our sunny region. Summertime can also be a primetime for scares, especially around LA way. Yes, it's true, many of the seasonal haunted houses and theme parks begin to hire their monsters around then, but the summer just ahead is set to deliver a few new thrills of the eerie sort.
STARTING WITH... the opening of the Lantern Light Tours at Silver City Ghost Town in Kern County. Yep, we know, a lot of historic towns save their ghost walks for October, but not this little gem of an Old West encampment. The paranormal-minded walk-abouts kick off on Friday, June 1 and continue to run through summer and fall. We like the idea of joining in the warm season; days are a little longer, so you don't have to arrive in the dark, and there aren't as many people clambering to get on a tour. Figure it is more room for you and the frights you may encounter.
MOVING ONTO... ghost art. The high-spirited WWA Gallery in Culver City is moving autumn up by a few months with a new exhibit devoted to works of a wraithly nature. Intrigued? It debuts on Saturday, June 8. (And be sure to stroll over to the possibly haunted Culver Hotel afterward, which has strong "Wizard of Oz" ties and a few ghostly ties as well.)
AND THAT SAME NIGHT... a "Twin Peaks"-themed exhibit opens at Meltdown Comics on Sunset Boulevard (so about a 20-minute drive away). Nope, the David Lynch show didn't have traditional ghosts, but it did offer scares galore.
AND FINALLY: ScareLA, LA's first Halloween convention, heads for downtown Los Angeles on Saturday, Aug. 10 and Sunday, Aug. 11. Some of the masterminds behind the city's big Halloween attractions will speak, and there'll places to stock up on costumes, make-up, and stuff for your yard haunt. Oh, and what's that? Tickets are already on sale? October, you just showed up in late spring. But then spooky SoCal does have a way of surprising sometimes.
Copyright FREEL - NBC Local Media