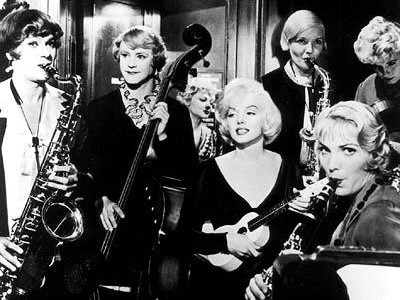 A "HOT" HOTEL: Hotels have long been used as locations in films, and some properties have been made quite famous by their cinematic cameos. The Grand Hotel on Mackinac Island? Yep, it practically deserves top billing in "Somewhere in Time." New York City's The Plaza? Once, long ago, it was a favorite spot for ensemble cast spectaculars. But we'll put forward that the relationship between Hotel del Coronado and "Some Like It Hot" is so strong and true that one could sit in the lobby for an hour and hear the name of the film mentioned at least twice, in passing, by other guests. Now this is notable on its own, but consider that the movie is well past its half century mark. A beautiful thing indeed, but that's staying power, when your movie gets mentioned again and again in a specific location. Of course, Marilyn Monroe helps a lot, and the fact that it tops AFI's list of Best Comedies.
WHAT ALSO HELPS... is that the Hotel Del very much keeps this legacy asparkle, from the Marilyn Monroe postcards and "Hot" DVDs in the gift shop to themed parties. Like, for instance, the "Some Like It Hot" Sweetheart Gala, which will boop-boop-bi-doo on, wait for it, Friday, Feb. 14. Yes, there shall be Valentine's love in the air, but also love for the famous film. Attendees are encouraged to dress as characters from the movie, and, nope, that doesn't mean finding a skirt-blowing white dress. (Ms. Monroe made that particular frock famous in "The Seven-Year Itch.") But should you go as Tony Curtis? When he donned glasses and the captain's hat and went posh? Oh yes, you so should. Cost is $150 per person, and, you betcha, it is in the famous Crown Room.
WHICH REMINDS US... that the Hotel Del boasts not one but two famous properties in its past. L. Frank Baum, who wrote the "Wizard of Oz," designed the Crown Room chandeliers. Real question: How many hotels boast such fantasy and fictional cred? With ties to two beloved works? Very few, we'll wager. Thank goodness the Del's close at hand.
Copyright FREEL - NBC Local Media