Hundreds of people gathered outside Apple's Cupertino campus Wednesday morning for an Apple employee-only memorial for Steve Jobs.
Huge photos of Jobs were draped on the side of the campus buildings for the 10 a.m. service.
Those in attendance described the service as festive, but said the moment that seemed to bring down the house happened when Jobs' voice filled the quad.
A recording of Apple's "Think Different" commercial, which was voiced by Richard Dreyfuss on television, was played. This time the words were spoken by the man who wrote them: Steve Jobs.
Tweets from people who said they were inside the campus said Norah Jones and Coldplay performed during the service, and eulogies were given by CEO Tim Cook, Apple board member and former Vice President Al Gore and Apple's chief designer Jony Ive.
One attendee told AP that Coldplay's Chris Martin told the crowd to get back to work because he said that is what Jobs would have wanted.
Wednesday's memorial started at 10 a.m. and ended around 11:30 a.m. Pacific Standard Time.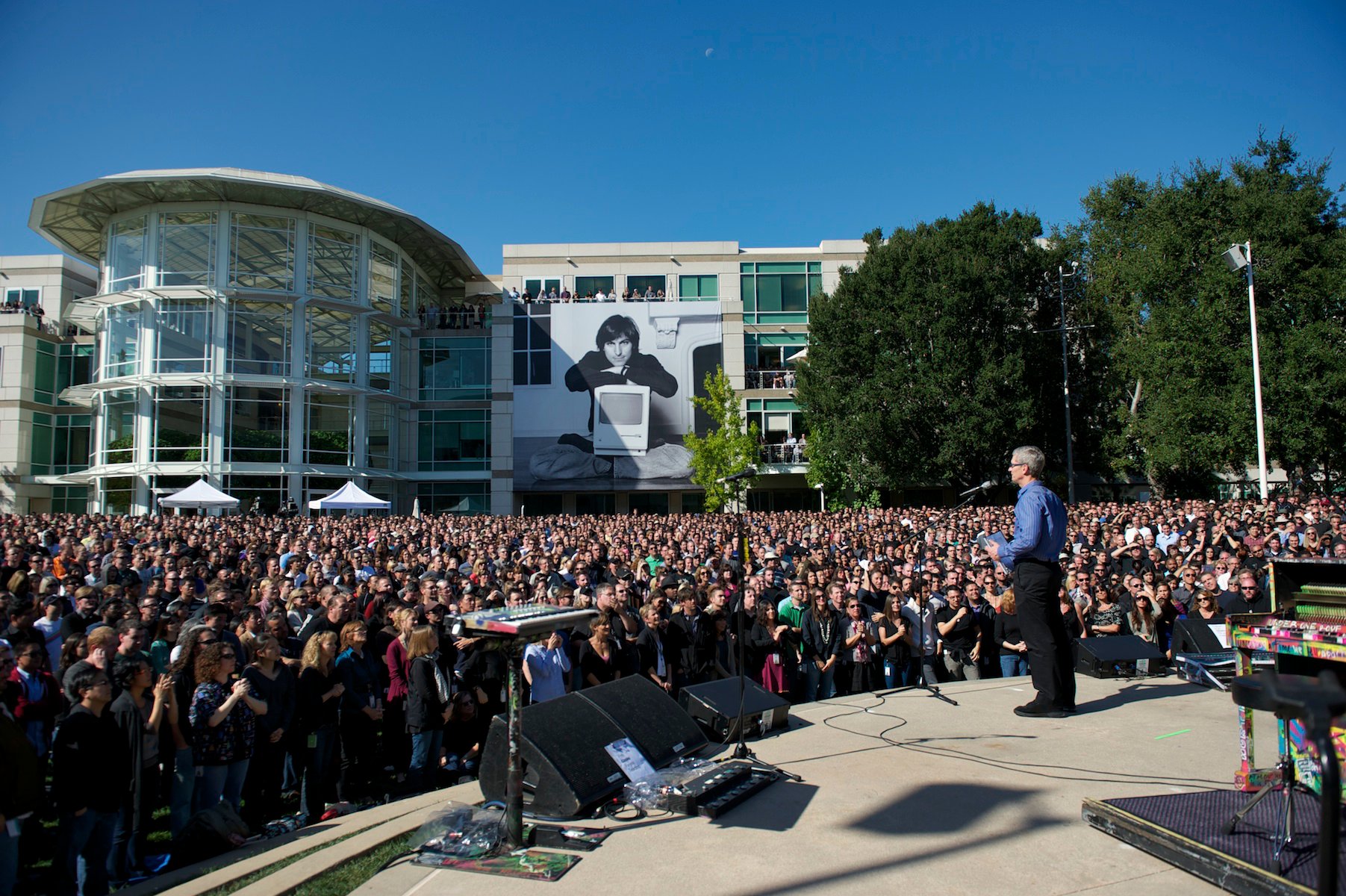 Apple shut its retail stores so that Apple store employees could watch the service.
Livestreams were set up in the stores for Apple employees.
Stores across the world shut down to coincide with the memorial and many did not accept online reservations for the Genius Bar or training classes for Wednesday morning.
The Apple store in Los Gatos blocked the entrance to the store with white curtains so that the public could not view the service, even from the nearby sidewalk.
Apple CEO Tim Cook informed employees about the service in an email the week Jobs died. He said then it would be a time "to remember the incredible things Steve achieved in his life and the many ways he made our world a better place.''
Also Wednesday, Apple unveiled a new tribute web page to Jobs.
"Over a million people from all over the world have shared their memories, thoughts, and feelings about Steve," the page said. "One thing they all have in common — from personal friends to colleagues to owners of Apple products — is how they've been touched by his passion and creativity."
Apple held a private memorial Sunday at Stanford's Palo Alto campus with Jobs' family, friends, fellow tech leaders, celebrities and politicians.