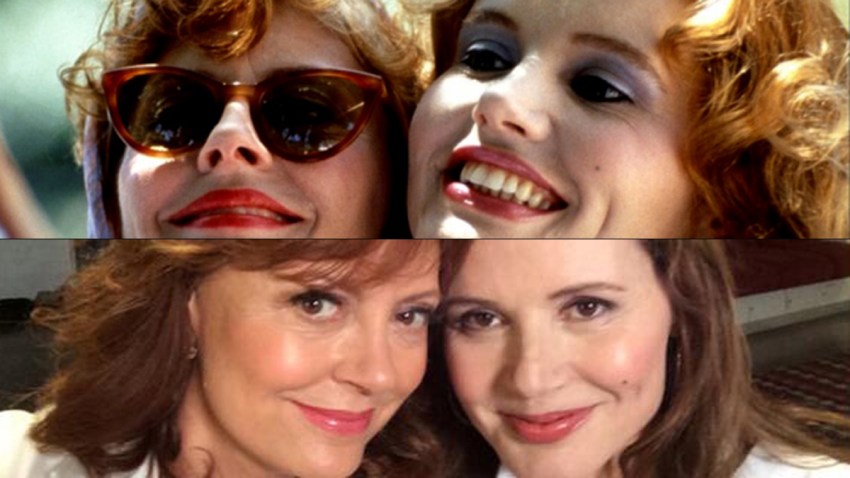 Thelma and Louise ride again.
Fans of the 1991 classic road movie "Thelma & Louise" were treated to a déjà vu update on Thursday when Susan Sarandon took to Twitter, posting an update image of herself and co-star Geena Davis in their now iconic pose from the film.
"Inventors of the #selfie at it again. #ThelmaAndLouise," Sarandon tweeted, alongside dual then-and-now photos of the cinematic best friends.
Back when the film was released, taking a selfie involved using a Polaroid camera and the resulting hard copy picture could only be shared via an envelope and mail carrier.
In a precursor to the current obsession of visually recording ourselves on smartphones and sharing on social media, Thelma (Davis) and Louise (Sarandon) famously snap a Polaroid of themselves as they prepare to set out on a two-day fishing trip to the mountains in Louise's 1966 Ford Thunderbird convertible.
The Ridley Scott-directed movie was a critical and commercial success, earning six Academy Award nominations and winning best screenplay.
"Thelma & Louise" also featured Brad Pitt as a hitchhiking drifter with lust and robbery on his mind. It was a small but pivotal role that would help catapult the then little-known actor to international recognition.
Davis, 58, will next be seen on the big screen in the comedy "Me Him Her" (currently in post production), while Sarandon, 67, can be seen playing a profane grandma to Melissa McCarthy's titular character in "Tammy," hitting theaters July 2.
Inventors of the #selfie at it again. #ThelmaAndLouise pic.twitter.com/1yvbF8j4fF — Susan Sarandon (@SusanSarandon) June 19, 2014