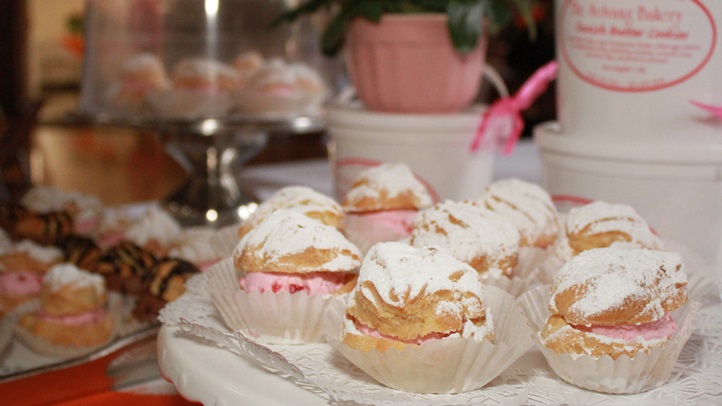 THE FULL FOOD EXPERIENCE: Cuisine-oriented events have evolved over the decades. Once a three- or four-course dinner would give a food fan a full-picture view of a restaurant or group of restaurants, it's true, but the full-picture view has grown even fuller. Now eatsy happenings take up two or three days, long days, and the gourmet goings-on are plentiful, diverse, and a mite overwhelming, in the best, choice-nice sense. The short of it is this: If you're a foodie heading for a long weekend of food-trying, you'll likely land on one or two to-dos. But then you have Solvang, that windmill-laden land of pastry and puff-cream-jam delights, a place that piles the pretty cookies as high as the local windmills. So how does a devotee of All Things Spun Sugar approach Taste of Solvang, the Marchtime meal-marvelous festival spotlighting all of the town's treats and eats? You naturally sign on for...
THE WHOLE SHEBANG: There's really a ticket called that, for the March 20 through 22 affair, and it really is about as shebangy as you'd hope. You get into everything on the schedule, from the Sips & Sweets on Friday night, March 20 to the Grand Tasting on Saturday and Sunday to the Wine Walk to the Bubbles & Brunch on Sunday. There's no dithering over choices, because all the picks are yours to pick from. The cost? The Whole Shebang clocks in at $245, and tickets are "(e)xtremely limited." We can only fathom one reason: Foodies want it all, to snack upon everything offered, and the notion that one event'll be passed over is too frustrating to manage. So go The Whole Shebang and get your fill of craft beers, Danish bites, and a smorgaasbord of sup-worthy choices.
WANT OTHER TICKET CHOICES? You can de-shebang Taste of Solvang, too, if need be, and only do one or two events. That's okay. That's cool. In the land of windmills and spun sugar, let us fret not when it comes to foodie fun.
Copyright FREEL - NBC Local Media