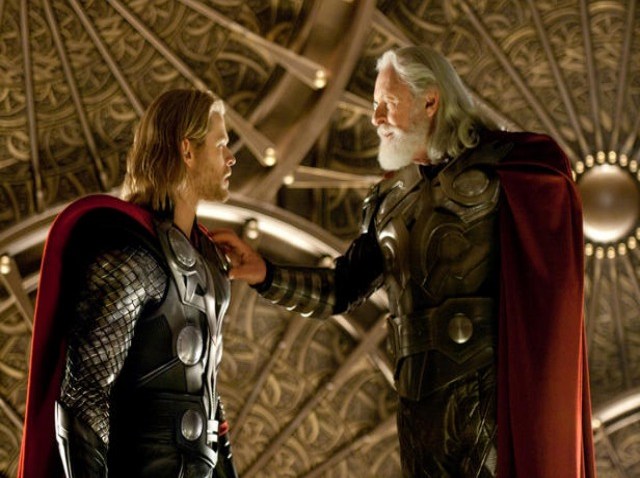 The old joke about Playboy magazine was that guys read it "for the articles." Football atheists and movie geeks have their own version: They watch the Super Bowl "for the commercials."
All kidding aside, there's a reason companies and studios shell out millions to snag a few coveted minutes in between game action. No matter what their reason, people are watching.
Predicting which blockbusters will make their bow during the game is almost as much fun as predicting who will be representing the AFC and the NFC. Well, The Hollywood Reporter got its hands on the list of Super Bowl Trailers, and it's certainly got enough to satisfy everyone.
Get ready to set that DVR (or, if you're truly a conscientious objector, get ready to Google search the morning after) because here's your primer on the tentpole movies of 2011 that are either making their debut or debuting more in-depth trailers:
Super 8: The super hush-hush alien project from J.J. Abrams ("Star Trek") and Steven Spielberg (we'll assume you know at least one of his movies). Like the Abrams-produced "Cloverfield," story details are sketchy, but rumors claim it takes place in the 40s or 50s and involves something escaping from Area 51.
Transformers: Dark of the Moon: The third installment in Michael Bay's Hasbro toy-inspired franchise, this sees the return of Shia LaBeouf but the departure of Megan Fox. Taking her spot as the way-out-of-Shia's-league love interest is former Victoria's Secret model Rosie Huntington-Whiteley. This time around, the action flashes back to America's first moon landing in 1969. Turns out Apollo 11 may have encountered some Decepticons...
Thor: Before Marvel Entertainment can unleash its superhero all-star team The Avengers, they need to fill the roster up. First out of the gate will be the Norse God of Thunder. Although Thor is played by relative newcomer Chris Hemsworth, director Kenneth Branagh has surrounded him with some hefty names like Anthony Hopkins (as Thor's father, Odin, who is the Norse equivalent of Zeus), Natalie Portman (as Thor's Earth-bound love interest, Dr. Jane Foster), and Stellan Skarsgaard (as a scientist).
Pirates of the Caribbean: On Stranger Tides: Essentially a Jack Sparrow spin-off movie, the fourth entry in Jerry Bruckheimer's swashbuckling adventure series finds the bumbling, mascara-caked pirate hot on the trail of the Fountain of Youth. Hot on his trail is the evil pirate Blackbeard, played by "Deadwood" star Ian McShane, and a mysterious femme fatale (Penelope Cruz).

Cowboys & Aliens: "Iron Man" director Jon Favreau directs this obscure comic adaptation that's about, well, exactly what the title says. A western sci-fi mash-up, this movie boasts the most intriguing cast of the summer, hands-down. Check this out: Daniel Craig, Harrison Ford, Olivia Wilde, Sam Rockwell, Paul Dano, Keith Carradine, and Clancy Brown. Yeah. Our thoughts exactly.
Limitless: "The Hangover" star Bradley Cooper is a copywriter who volunteers to be a guinea pig for a top-secret drug meant to enhance a person's mental capabilities. At first, it's amazing. Then...not so much. Robert De Niro and Abbie Cornish ("Stop Loss") co-star.
Just Go With It: A romantic comedy of errors starring Adam Sandler and Jennifer Aniston, "Just Go With It" is about a man who likes to use a fake wedding band to score women. When one such hook-up goes spectacularly well, he has to scramble to come up with a fake ex-wife rather than explain his ruse. Because simple solutions have no place in rom-coms, sir.
Battle: Los Angeles: Described as "Black Hawk Down" meets "Independence Day," this gritty action flick takes a grunt's-eye view of an alien invasion. Aaron Eckhart, Michelle Rodriguez, and Bridget Moynahan star.
Captain America: The First Avenger: A few months after Thor makes his bow, the "First Avenger" arrives. Set during World War II, "Captain America" stars Chris Evans as a scrawny Brooklyn kid (clearly, CGI will be used) who wants desperately to enlist in the army. When he's refused, he volunteers to undergo an experimental treatment that turns him into a buff "super soldier." Hugo Weaving plays the main villain - an ex-Nazi called The Red Skull. And yes, his head is a red skull. It's not just a scary nickname.
Priest: Paul Bettany ("The Da Vinci Code") stars in this comic book adaptation about a post-apocalyptic world where the church rules all and warrior priests uphold the law. Oh, and there's vampires. When one of the blood-suckers kidnaps his niece, a former Priest goes on a rescue mission.
The Eagle: Originally called "The Eagle of the Ninth," this historical epic tells the story of a Roman soldier (Channing Tatum) who embarks on a mission to retrieve the Eagle standard of Rome's legendary Ninth Legion, which was believed lost along with the entire legion after they ventured beyond Hadrian's Wall and were (allegedly) wiped out by the savage Pict tribes.
Rango: Johnny Depp voices a chameleon who ventures out into the Old West in search of adventure. Yes, it is animated. And yes, we did have to look that up to make sure. You just never know with Depp. If anyone would squeeze himself into a chameleon suit, it'd be him...
Kung Fu Panda 2: Jack Black returns to voice the lovable chubby martial artist. This time, he has to team up with a whole new band of masters to take down an old enemy. An all-star cast (Angelina Jolie, Gary Oldman, Seth Rogen, Jackie Chan, Michelle Yeoh, Lucy Liu, Dustin Hoffman, David Cross, and Jean Claude Van Damme) are along for the ride.
Take Me Home Tonight: Unfortunately, this is NOT the Eddie Money biopic we've been hoping for. Oh, well, we'll just have to keep up our letter-writing campaign. "Take Me Home Tonight" is an 80s-set drugs and sex romp starring Topher Grace ("Predators"), Anna Faris ("Scary Movie"), Teresa Palmer ("The Sorcerer's Apprentice"), and Dan Fogler ("Good Luck Chuck").
The Super Bowl airs live February 6, 2011.