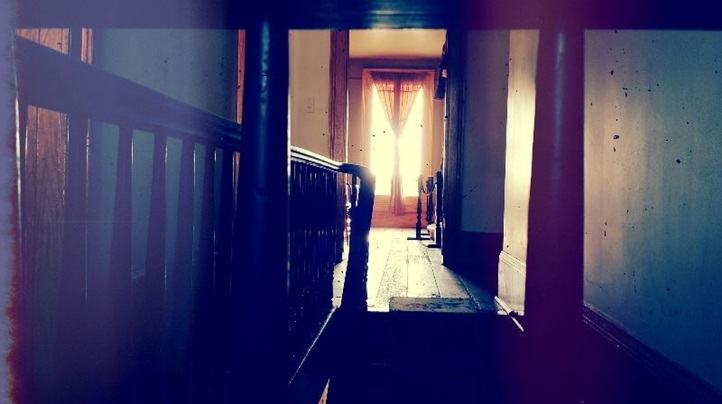 QUIRKY QUIZ: What's more foreboding and tingly to the spine on a moonlit October night: a creepy stare or a creaky stair? We're bound to say both, especially if the stare hails from some sort of apparition or wraith that you think you might see at the end of a long hallway. But a creaky stair sound, one that comes from behind you, deep in the recesses of a possibly haunted abode, may actually be more chilling, for you can only hear it, or feel the floorboards vibrate through your feet, and your imaginings may grow.
THE WHALEY HOUSE... may not always have the creepy stares going, though many visitors report seeing unusual sights and strange figures about the house. But the general antique creak-a-tude of the 19th-century San Diego landmark cannot be denied. When you're standing inside the beautiful Old Town casa, whether it is a bright and hot July morning or it is midnight on Halloween, the house's potential for raising the hairs on your forearms over the slightest creeeeeak is quite high. And while its history draws many visitors throughout the year, those who like their forearm hair tested arrive in October, for all of the Halloween-flavored doings offered.
TOURS TO TALKS: Choosing what sort of ghosty pursuit that suits you at the Whaley is a hard one, as there are a few choices (and you are inside what is called by many "the most haunted house in California"). Silent Screams -- screenings of silent era films -- will unspool in the Whaley House Theatre, which began in 1868, while Ghost Hunting Tours and Past & Presence Ghost Tours dot other October dates. Nighttime Tours shall creak it up on Oct. 29, and Halloween? The Whaley'll push through to midnight. Surely there are fans of both the house's history and its ability to be eerie. And no one could deny that, October or not, the old house of Old Town definitely has some rockin' creak going down, around the stairs and otherwise.
Copyright FREEL - NBC Local Media