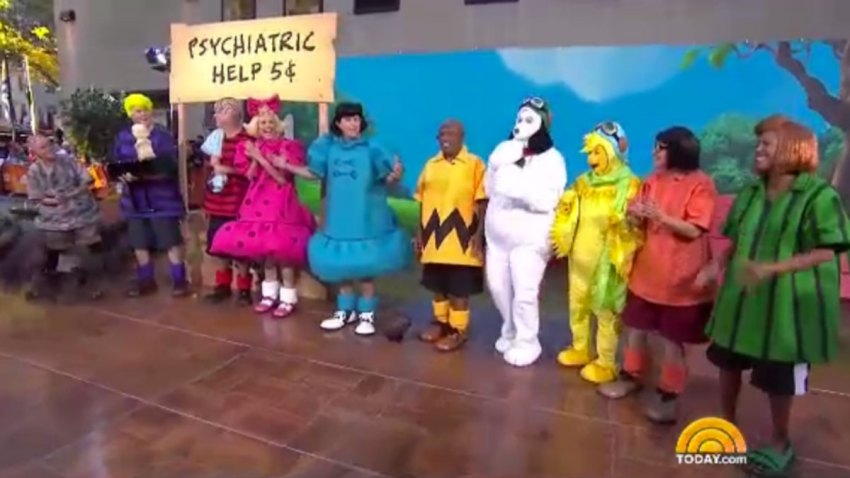 The "Today" show anchors have really outdone themselves in this year's Halloween reveal.
Matt Lauer, Al Rocker, Willie Geist, Tamron Hall, Carson Daly, Natalie Morales, Meredith Vieira, Hoda Kotb and Cathy Lee Gifford jumped into the pages of the daily comics and morphed into their favorite Charles Schultz's "Peanuts" character.
Geist led the pack with a piano intro as, well, piano-playing Schroeder. Next, Morales as Marcie and Hall as her best friend Peppermint Patty led us into the classroom.
"Sir, Sir," Morales called on the ever-sleeping Patty.
Daly donned a bald cap and sparse hair to play Charlie Brown's blanket-clutching best friend Linus. And not far behind him was Brown's little sister, Linus-loving Sally, portrayed by Gutherie in an oversized pink hair bow and staple polka-dot dress.

Lauer was decked out in a blue dress and short, black-haired wig to take on the role of Lucy, Brown's foil, while Vieira got down and dirty as Pig Pen.
Kotb and Lee were unrecognizable as the world's most famous beagle Snoopy, and his side-kick Woodstock.
And to round out the cast, Rocker suited up as the ever-hopeful ostracized protagonist, Charlie Brown.
For the last 20 years, 'Today' anchors have created some of the most memorable themes and costumes for the show's annual Halloween reveal.
Last year, to honor the 40th anniversary of 'Saturday Night Live' the crew dressed up as some of the show's most infamous characters.
Hall and Geist channeled their inner Spartan cheerleaders, while Morales nailed her impression of Mary Katherine Gallagher.
"Sometimes, when I get nervous, I stick my hands under my armpits and then I smell them like this!" said Morales, doing a spot-on impersonation.
Kathie Lee Gifford and Hoda Kotb dressed up as the dynamic duo Wayne and Garth from "Wayne's World." But it was Al Roker and Lester Holt singing "Soul Man" as The Blues Brothers that stole the show.
Other memorable themes include the royal wedding in 2011, pop culture icons (you can't unsee Roker in a superman onezie) and 2009's "Star Wars."