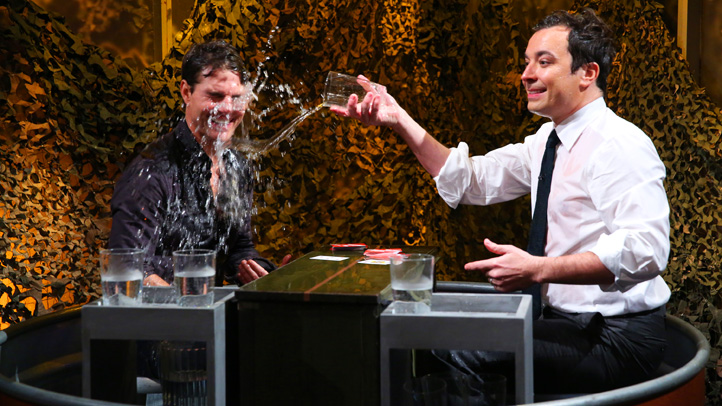 Tom Cruise isn't only back on the big screen--he's back in the public eye.
The "Jack Reacher" star visited "Late Night With Jimmy Fallon" Tuesday to talk about the holidays and his latest film, his first interview since his split from Katie Holmes (and, coincidentally, it's where Holmes went to break the TV ice, too).
Answering the usual questions about how ballsy he is to do his own stunts, Cruise revealed that the "worst injury" he suffered while shooting Jack Reacher was to his foot. But he didn't get hurt jumping from a moving vehicle or climbing the side of a building...
Jack Reacher's NYC screening postponed in wake of Newtown school shooting
He hurt himself while kicking a guy in the crotch, over and over again!
"There's a scene where I'm kicking a guy in the balls, the testicles," Cruise said.
"It was a human being, [but] no testicles were injured in the making of the film! We had to do the take over and over again, and the first 10 times it was like 'Yeah!'" he joked raising his arms in victory. "After about 50 times in, my foot was swelling...I kept having to loosen my shoe."
Katie Holmes bakes cupcakes with Suri in NYC
"Maybe Jack Reacher should wear Ugg boots," cracked Fallon.
Knowing full well he would lose at any type of hand-to-hand combat, the host then challenged his guest to a game of Water War, a regular "Late Night" bit in which drawing the high card determines who gets to dump water on his opponent--and who gets soaked.
And while Cruise lost a few hands and ended up getting a few glasses tossed in his face and a pitcher of water dumped over his head, he won the ultimate war and got the parting shot with the Late Night water cannon.
Because the hero always wins, especially when he's played by Tom Cruise.
See more pics of Tom Cruise out and about since becoming single
Copyright E! Online