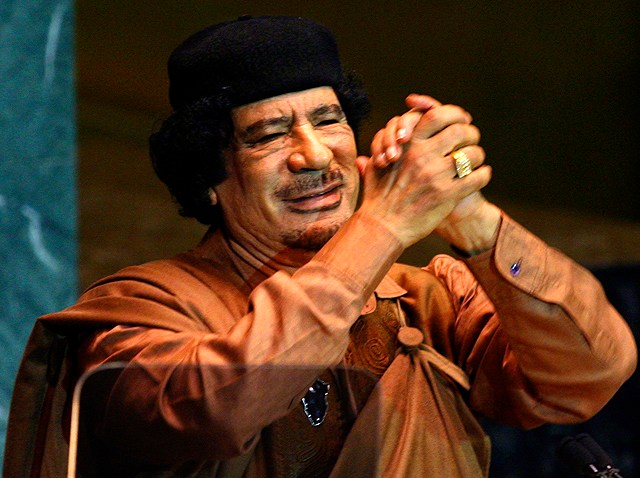 An elaborate tent for Moammar Khaddafy that prompted stop-work orders and public indignation has been taken down at Donald Trump's suburban estate.

The white-topped tent -- lined with a tapestry of camels and palm trees and outfitted with leather couches and coffee tables -- was no longer visible on Friday at the bucolic property.

"We hear they're leaving today. That would be welcome news,'' said Bedford Town Supervisor Lee Roberts.

The tent had been pitched for a second time Thursday, one day after being dismantled when town officials declared it an illegal use of a residence.

Roberts said the town won't go to court "as long as there is no move toward re-erecting the tent.''

Late Thursday night, Bedford Town attorney Joel Sachs, escorted by two police officers, moved onto the property and handed fresh stop-work orders and criminal summonses to representatives of the landowner -- Trump's Seven Springs LLC -- and the tenant of record.

He said he was unsure "exactly which entity'' had rented the property to the Libyans.

Sachs told reporters at the scene that if the tent was not taken down -- again -- by midmorning Friday, the town would probably seek a court injunction. If an injunction was granted, fines could total $1,000 a day, he said.

Sachs said he was told the tent would be down by sunset, but it was still up as darkness fell. A Trump spokeswoman said by e-mail later that it was dismantled. She did not answer a question about
whether Trump's permission had been sought for rebuilding the tent.

Khalifa Khalifa, a Libyan official, insisted the tent was legal. He said it was meant to honor the Libyan leader, although Khaddafy apparently never made it to Bedford.

"The tent is a symbol for the country and the president. It goes up everywhere they go,'' he said.

Khalifa, speaking through a translator, said the Trump property was rented "specifically to have a space for a tent.'' He said he didn't know if Trump was aware the tent had been re-erected.

Khalifa also said he was unaware that Khaddafy's anticipated visit to the suburbs had gotten a "chilly reception.''

Reporters had been invited to the estate Thursday night for a possible meeting with Khaddafy, who is in New York for the United Nations General Assembly. They were served tea and allowed to examine the tent but then were ordered off the property after the town officials stormed in. Khalifa said Khaddafy's plans had changed.

Sachs said he began to suspect the tent had been rebuilt when a State Department attorney called to say a Khaddafy visit was possible and the department might not back up the town's fight against the tent.

Westchester County Executive Andrew Spano said through a spokeswoman that the Libyans were "thumbing their noses'' at the county and the town.

Trump had been praised by Roberts for "defusing the issue'' on Wednesday. He said he had asked his unidentified "tenant'' to take the tent down and the tenant had complied.

Roberts also said Trump told her that he "had no idea'' when the rental deal was made that it would involve Khaddafy.

The Libyan leader has had a difficult time finding a place to spend time while in the New York area. Requests for space in Central Park, Englewood, N.J., and Manhattan's Upper East Side were all rejected. Khaddafy stayed at the city's Libyan Mission after arriving Tuesday.
Copyright AP - Associated Press