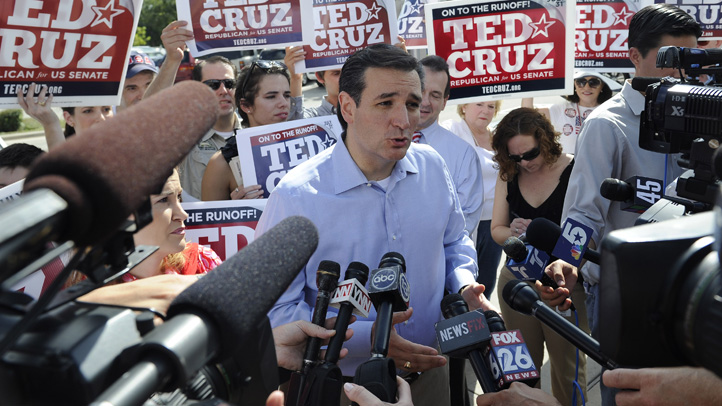 Once upon a time, Texas was a Democratic bastion and California was regularly in the Republican column.
Times sure have changed!
In last Tuesday's GOP primary run-off in Texas, Tea-Party favorite Ted Cruz, a little-known, first-time candidate for elective office defeated David Dewhurst, the state's powerful Lt. Governor—and the darling of Texas' GOP establishment, to become the GOP nominee for the U.S. Senate seat being vacated by Republican Kay Bailey Hutchison.
Already Cruz is being hailed as "the next Marco Rubio."
The Democratic candidate, former state representative Paul Sadler, doesn't have a chance in November. Texas hasn't elected a Democrat to the U.S. Senate since Lloyd Bentsen in 1988; there hasn't been a Democrat elected to statewide office since 1994. The GOP holds nearly 75% of Texas' Congressional seats and Democrats are in the minority in both houses of the state Legislature.
Kinda sounds like the plight of the Republicans in California.
While Texas is the biggest Red State in the nation, California is the truest Blue.
Democrats hold a roughly 10 point registration edge in California. In Texas there is no registration by political party; a voter becomes a Republican simply by voting in the Republican Primary (and only the Democratic and Republican Parties hold primaries).

Ideology has impelled "old-school" Democrats toward the Texas GOP and its conservative platform, leaving a smaller, more liberal Democratic core.
In California it is demography, as well as ideology, that has moved moderate independents and many Latino voters into the Democratic column.
Unlike the California Republican Party, Texas Republicans have taken pains not to alienate Latino voters—at least until the Republican-dominated legislature passed the state's contested voter identification law, which opponents argue discriminates disproportionally against Latinos.
In 1998, then Gov. George W. Bush got about 40% of the Latino vote running for re-election. Bush's GOP successor, Governor Rick Perry also reached out to Latinos, particularly on the issue of immigration—repelling many national conservatives.
In California, the GOP is drowning in red ink; the Democrats aren't.
Sure, that's because political contributions flow to incumbents. But the disparity is startling.
California Republican Party is on track to show a negative balance in its mid-year financial report; the GOP has already approved shuttering its Sacramento headquarters. On the other hand, he Democratic State Central Committee of California had $13.6 million cash on hand as of June 30.
Public employee unions help mightily to fill Democratic candidates' coffers. However, so far, those vaunted SuperPacs haven't come to the aid of the GOP in this reliably Blue state.
In Texas, The Club for Growth, a Washington-based, conservative pro-business lobby in, spent $5.5 million on TV ads for Republican Cruz. And FreedomWorks, a national group allied with the Tea Party, kicked in $700,000. (That was enough to counter the impact of Dewhurst's private fortune and the pro-Dewhurst Texas Conservatives Fund, which contributed more than $5 million against Cruz.)
The reality is that, in California, the Tea Party has not been the force it is in other states—like Texas—where it is helping to firm up the GOP base and supplying needed grass-roots organization and funding.
That's not to say the pendulum will not swing back again in either state. But power goes where money, organization, public opinion and support reside. That's why California goes bluer and Texas goes redder.
Which behemoth will the rest of the country follow?
Sherry Bebitch Jeffe is a Senior Fellow at the USC Price School of Public Policy and the political analyst for NBC4.
Send us your thoughts via Twitter @PropZero or add your comment to our Facebook page.