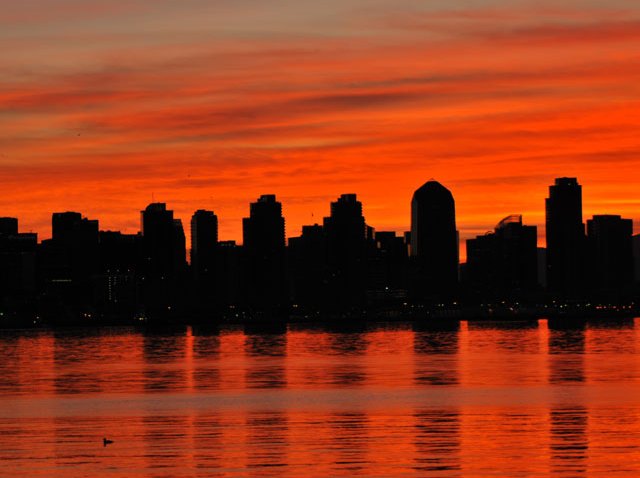 It's been several years since people could call San Diego "America's Finest City" with a straight face.
The phrase that took its place, "Enron-by-the Sea," has yet to fade away.
Now, political scientists at UC San Diego and UC Davis are out with a book that charts and deconstructs that demise.
"Paradise Plundered: Fiscal Crisis and Governance Failures in San Diego" makes a case that city and community leaders have been both foolishly extravagant and dangerously self-delusional.
Essentially, ordering champagne on a beer budget.
Going too broke to fix the damage, becoming too hung over to think clearly.
The authors call San Diego a "cautionary tale" for many other cities.
The book, published by Stanford University Press and in distribution channels this week, was written by professor Steve Erie, director of UC San Diego's urban studies and planning program; Scott MacKenzie, assistant political science professor at UC Davis; and Vladimir Kogan, political science Ph.D. candidate at UC San Diego.
It traces the origins of San Diego's ongoing fiscal crisis to former California governor and U.S. senator Pete Wilson's tenure as the city's mayor from 1971 to 1983.
According to the authors, the downward spiral was well under way when Dick Murphy, a former Superior Court judge and city councilman, resigned as mayor in July, 2005, not long after Time magazine had named him one of the country's three worst big-city mayors.
A year after that, outside auditors issued a damning report naming dozens of city officials in connection with a runaway pension debt that was concealed from Wall Street and federal regulators.
Some of those involved were hauled into federal and state criminal courts.
But the charges didn't stick.
And since then, the fallout from a longstanding credit crunch has resulted in a 15 percent downsizing of a workforce that the authors of "Paradise Plundered" say is the smallest per capita, and least compensated among California's major cities.
"In the city of San Diego," Kogan said in an interview Friday, "we have voters that on the one hand have high expectations about what they want government to do -- and on the other, very low expectations about what they're willing to pay."
So in the aftermath of the pension crisis, public safety has been underfunded.

Fire engines, browned out for a spell.
Numerous police choppers, grounded.
Library and recreation center hours, dramatically scaled back.
Deferred maintenance on a crumbling infrastructure runs upwards of a billion dollars.
And now, there's a petition drive for a proposed initiative to replace most traditional city employee pensions with 401(k)-style retirement plans common in the private sector.
"Everything is short-term," says Erie. "It's all about cutting costs."
Erie is blunt in his assessment of municipal and civic institutions: "We've had a colossal failure of leadership in San Diego, in terms of educating the public about the need to adequately fund public services. We're on the margin.
"I mean, San Diego is becoming a 'Potemkin Village' -- a showy exterior, particularly downtown, but dry rot for public services and infrastructure."
The authors warn that such issues aren't unique to San Diego, now that the global economic crisis has taken hold.
"A lot of the tensions, the forces we've seen brewing in San Diego over the past three decades," Kogan says, "are now emerging all over the country."
Let us know what you think. Comment below, send us your thoughts via Twitter @PropZero or add your comment to our Facebook page.