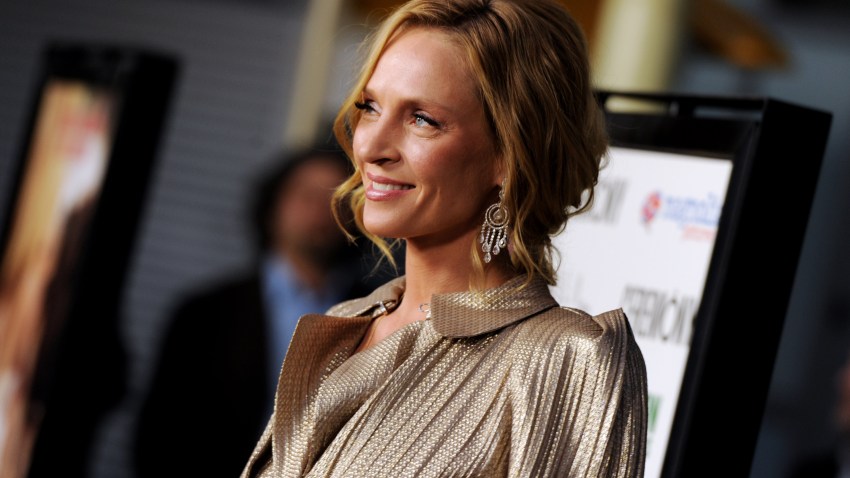 After making three films with Quentin Tarantino, Uma Thurman probably qualifies as a good judge of a writer-director to keep your eyes on. And the actress directs all eyes to newbie Max Winkler (the son of actor Henry Winkler and the helmer behind the cult mockumentary web series "Clark and Michael"), starring in his debut feature "Ceremony."
"I opened up the script and I could immediately tell it was no formulaic pitch for a studio film," says Thurman. "It was clearly an independent voice, an independent mind, totally. Which immediately lets you know that you're dealing with an original piece of material – and an original person."
The story centers on the romantic but likely deluded quest of a seemingly confident young would-be charmer (Michael Angarano), who drags his hapless former best friend on a road trip to win the heart of his fantasy woman (Thurman) in the midst of her wedding to an over-the-top documentarian (Lee Pace). "None of them are remotely clichéd characters," she says. "They're all contradictory. He renders people in a very lifelike manner. Unlike many female characters in films that are sort of devices of plot and so on and have no layers and no room to breathe, no room to tell the truth or lie about it. Max's characters, all, are not what they appear to be. They're much more…These are whimsical people and they kind of live in their own fairyland, and they make their own fantasies. And I think that there was sort of an aspect of ruthless people about them. They're sort of somehow skating through life trying to be unaffected by its causality."
Thurman was impressed with Winkler's dexterity both on the page and on set , despite helming his freshman film. "You would have thought Max had made 300 films," she says. "He was very, very focused and organized, and yet completely available to be in the moment and work with the conditions that he had. That kind of flexibility and centeredness is something very experienced directors often don't have. Sometimes they don't know what they're doing, or sometimes they don't have a plan. Sometimes they do have a plan – they have such a rigid plan that if they can't make it happen in that one particular way they just get completely stuck. Max is a really dexterous dodger."
She also offers praise for another face among Hollywood's younger generation that she co-stars with in the upcoming film version of novelist Guy de Maupassant's "Bel Ami," this one with some substantial mainstream successes under his belt: actor Robert Pattinson.
"It is another movie with a younger man," she admits. "That's not bad – It's nice work if you can get it. Robert's a very good actor. He's going to have a long, long career."