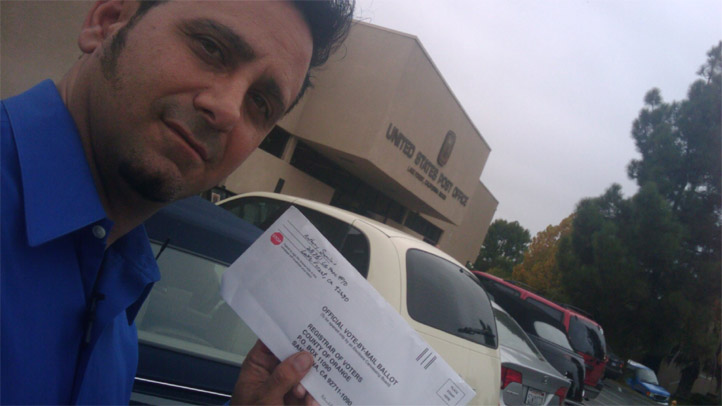 "It's in the mail"--or is it?

That simple declarative statement often said to explain the whereabouts of a letter may take on a new political significance in California politics.
The U.S. Postal Service has announced that it will soon close 14 mail processing centers here, in addition three centers closed in the past year. The reason is simple enough, the number of letters has halved to 26 billion in 2011 from 26 billion in 2002. Fewer letters mean that there is a need for fewer processing centers.

So, what's that have to do with politics? In California, a lot more than you might think.

Californians love to vote by mail.
In 2010, 58 percent of the state's voters cast their ballots by mail in the June primary, and almost as many--48 percent--in the November general election.
In 2008, 42 percent of the voters sent in their decisions by mail. The point is that voting by mail increasingly has become the most convenient way for most Californians to exercise the franchise.

So far, so good, but here's the hook: according to state law, ballots must be received by the Secretary of State's office by 8 p.m. on election day.
Until now, letters have reached election centers within a day or two of posting. Once the changes take place, however, letters may take as long as a week to reach their destination.
The bottom line is the ballot mailed on June 1st or 2nd may not be counted as part of the vote in the June 5th primary.

No one can control the decisions of the Poastal Service, but we can control the process through which the votes are counted. The legislature can amend state law to accepted all ballots postmarked no later than election day.
There's a small down side to the extent that we may not know the outcome of a close election for a few days, but that inconvenience more than outweighs the possibility that hundreds of thousands of votes might not count because they arrive after election day.

It's a simple change, but an important one.

There is proposed legislation to accommodate the Postal Service cutbacks, which are not likely to take place until after the June primary. Still, it would be wise for the legislature to pass the legislation now so that we can see how the new law works in advance of the November election.

Too many times, we lament the unexpected consequences of policy changes because we don't see them in advance.
This is one time when we know what will happen. Let's hope the legislature doesn't drop the ball.