Rahman Syed was waiting for his daughter by the sign for Jamaica Estates, the Queens neighborhood where Donald Trump grew up, so the two could vote together in New York's primary on Tuesday.
He would not be choosing Trump.
"I'm going to go for Hillary," said Syed, 61. "My senator."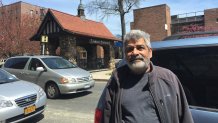 A registered Democrat, he still had questions about New York's former senator, Hillary Clinton, especially her use of a private email server while she was secretary of state. And Sen. Bernie Sanders of Vermont stood for bettering the lives of the working class, which Syed considered himself. But he was not sure Sanders would be able to work with others to accomplish his goals.
"She has the most experience," said Syed, a taxi driver who also owns one of New York City's taxi medallions.
His daughter, a business student at Baruch College and a first-time voter, had tried to convince him to vote for Sanders even as he was hoping to change her mind — a generational gap that has been obvious throughout the primary season.
"We talk a lot," he said.
Trump and Clinton cruised to victory in New York, where for the first time in decades both the Republican and Democratic primaries were competitive. In the days leading up to the vote, the candidates had been emphasizing their ties to New York: Trump his real estate empire, started by his father and now encompassing Trump Tower, where he lives in Manhattan; Clinton her time as senator; Sanders his childhood home in Brooklyn's Midwood section.
Trump's boyhood neighborhood along Midland Parkway, a once mostly white area with large brick houses, is now surrounded by a more much diverse community scornful of his talk of expelling immigrants, building a wall on the border with Mexico and keeping Muslims out.
Syed said he thought Trump, whom he called a good businessman, was trying to rally the masses with his most extreme positions, which legally he would be unable to carry out.
"I'm not that worried about him," Syed said.
[NATL] New Yorkers Vote in Contested Primary: April 19
David Barrios, a 20-year-old student at New York City of Technology, said he disliked the way Trump targeted particular ethnic groups.
"The way he talks he sounds very ignorant," Barrios said.
And he and Karmini Nakoo, 24 and a student at the State University of New York at Old Westbury, liked Sanders' position on making tuition affordable.
"Bernie Sanders is looking out for the people," Nakoo said.
But whether they would vote on Tuesday was unclear. Barrios was not sure he was registered in a party, which would make him ineligible in New York's closed primaries. The large number of young people without a party affiliation was expected to be a particular problem for Sanders' campaign, leaving aside the large number of voting problems reported around the city.
If excitement for Trump appeared absent in Queens, it was evident for Sanders in Brooklyn.
On Kings Highway, not far from where Sanders grew up on East 26th Street, Jeffrey Kassel, 63, and 71-year-old Antonio Hidalgo had already voted and were on their way to lunch with friends. The couple, together for 35 years, were split in their political allegiance -- Kassel for Sanders, Hidalgo for Clinton.
"Bernie is a democratic socialist and so am I and I don't have to be embarrassed any more or fearful," Kassel said. "It used to be you had to be very quiet about saying something like that. You were almost considered a communist."
Kassel, retired from the state's Office of Temporary and Disability Assistance and a union shop steward, said the country's wealth had to be redistributed so that such a small number of people did not control so much.
"Most people struggle," said Kassel, who grew up not far from Sanders.
Hidalgo, a retired teacher, preferred Clinton's experience working for the administration.
"She was everywhere -- here and Europe and everywhere else," he said.
Sixteen-year-old Dani Black is too young to vote, but he headed into Starbucks with Bernie Sanders buttons on his jacket.
Black, a junior at Sanders' alma mater, James Madison High School, said he supported all of Sanders' positions -- upending economic inequality, backing rights for women and the LGBTQ community, battling climate change.
"I believe in what he stands for," he said.
[NATL] Highlights From the 2016 Campaign Trail