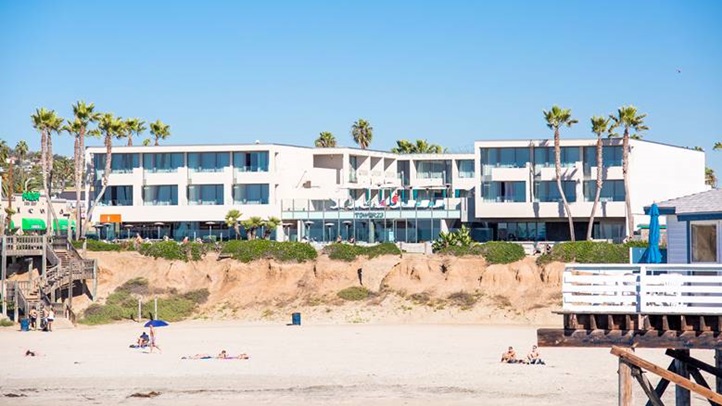 THE FOAM IS PHONING: It matters not if you haven't squished wet sand between your toes in a year. It doesn't count if you haven't built a castle with a plastic bucket and shovel in a decade. And if you haven't gone searching for shells in forever, that's a-ok. The fact is the beach has a pull on us, regardless of how far we roam, and how long we're away from it. And no time of the year tugs on us, creating further pull, like spring break season. The nights are brighter, the ads all tout glorious getaways, and we think, as we sit at our computers, well, dang it, why can't that be me? The not-so-secret thing is, it can be, via those ocean-close inns that offer spring-break-y packages (at least they're spring-break-y in spirit, even if you don't take them the actual week when everyone's on break). Tower23 Hotel in San Diego is one such spot that enthusiastically embraces the surf-close lifestyle, as a new package reveals. It's called Ride the Wave, a three-nighter that has, as its get-soaked centerpiece, a surf lesson for two. That means you have...
A BOARD BUDDY... to laugh with later on, or high five, over your 90-minute session with a surf-knowledgeable teacher. Will you be able to take on a massive barrel after your hour and a half? Wellll, that might be a bit further down the road, but you'll have some terminology under your belt, and some skills to sharpen, and probably a few fun snapshots, too. It's $379 per night, for starters, and a fifty buck dining credit at the on-site JRDN is included (that's where you and your BFF will relive the lesson, sharpening your anecdotes and laughing over any foibles). Also? Valet parking is included, too. The offer is good through May 31, 2016, which means you can get your spring-break-ian fun in while it is actually still spring. Go ahead and keep scrolling through the pics of those at the beach, but don't get steamed or envious; just make your own date with the Pacific.
WANT A DIFFERENT TYPE OF STAY? Tower23 has a few packages afoot, so eye all.
Copyright FREEL - NBC Local Media