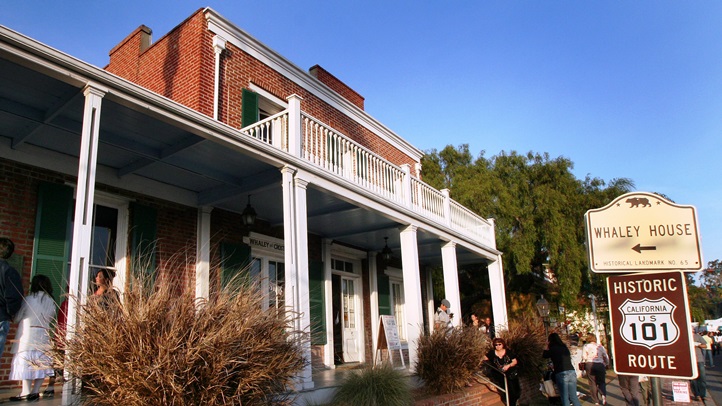 PICK ANY DAY OF THE YEAR... to visit the Whaley House in Old Town San Diego and you'll find an abode laden with tales from not just the last century, but the one before that. From Thomas and Anna Whaley, the first occupants of the home, to various children who made a life there, to its days as a granary, to its days as a school, to its empty days, when no voices rang through the halls, the Whaley has weathered the decades, with recent years finding it to be one of the city's best-known attractions. This is definitely due to its history, and its proximity to the strollable Old Town, but that the Whaley House is a frequently seen sight on a host of cable shows covering the supernatural also draws the guests in on a regular, phantom-seeking basis.
"MOST HAUNTED": It's regularly called "one of California's most haunted places" (and sometimes "the most" haunted, if you want to try to quantify the ethereal), which all leads to this: October stays busy at the handsome house, with a host of Halloween's-drawing-near must-dos that welcome both locals and out-of-town visitors alike. Those events include...
PAST & PRESENCE GHOST TOURS, and classic fright film screenings, to after-sundown tours, to a full slate of atmospheric happenings on Oct. 31. The Past & Presence Ghost Tours and Ghost Hunting Tours are scheduled for multiple dates, but if you want to see 1960's "13 Ghosts" you'll need to be there on Wednesday, Oct. 12. What will you see? Will you spy a character from the home's infamous past, or perhaps one of the students who attended school there back in the day? What of the lady of the house, or another spectral sighting that is harder to define (but definitely felt, according to the goosebumps on your arms)? If you've never been, October is a perfect, and bustling, time to call upon the Whaley. If you have been you know that its echoes and shadows lend credence to its reputation as one of the most haunted destinations to be found.
Copyright FREEL - NBC Local Media