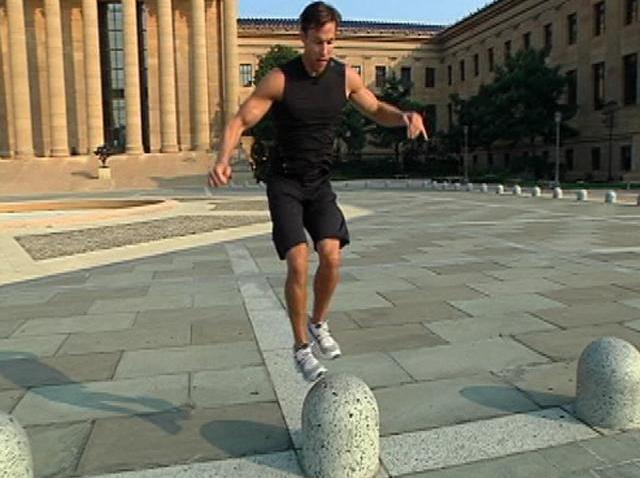 This guy officially crushed "Wheel of Fortune."
Robert Santoli, 23, won $76,086 and two cruises after leaving his fellow contestants in the dust on Friday's episode.
Not only did he conquer puzzles left and right, nearly sweeping the game show, he even solved one puzzle with just a single letter "D" and an ampersand as the clue.
The answer was: "Port & Starboard."
The remaining puzzles practically spelled out Robert's night.
"Oh what a night?" You can bet he was having one heck of a night.
"Easy breezy?" This game show definitely is for a whiz like this guy.
"Living in the moment?" How can you not be while wiping the floor with the other game show contestants?
As for "don't let the cat out of the bag?" It turns out Robert is willing to do that when it comes to revealing his game show secrets.
Take notes, people. This is how you bank two cruises.
According to TAPinto.net, which spoke with the "Wheel" winner, the champ provided some insight into how he dominated the game.
The first step was when he found out the episode would be "Spin & Sail" themed, in honor of the evening's sponsor, Carnival Cruise Line. "The instant I got my theme, I immediately came up with an ever-growing list of puzzles themed towards cruises, sailing, fish, boats – anything on or in the water," the contestant told the site.
His other tip?
Study past episodes.
"The show does sometimes repeat puzzles, especially themed ones," he told TAPinto.net. He had seen that "Port & Starboard" answer used at least twice before his episode. He even did research on the most common letters to pop up in bonus puzzles.
Besides understanding the show's tendencies, the "Wheel" winner had one more thing that may have helped him win big.
Former "Wheel" winner Emilbert de Leon was in Robert's support section. The two met via a fan-site dedicated to the show.
And the guy's a good sport. Santoli apologized to his fellow contestants during the episode.
As for what Santoli plans to do with his winnings, he told TAPinto he wants to pay off his student loans and then buy or lease a car. "I know I look like a bit of a dork on the show with my high-pitched 'Yeahs!' and my childish jumping up and down after winning the Bonus Round, but I was really, to quote the Round 4 puzzle, 'Living in the Moment,'" Santoli said.
PHOTOS: 15 TV Events We're Most Excited For in 2016
WATCH NOW: This "Wheel Of Fortune" Geography Fail Is Hilarious
Copyright E! Online