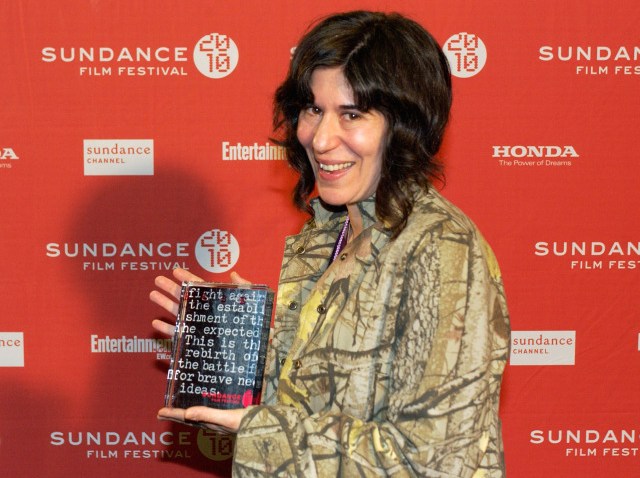 "Winter's Bone" was the big winner at Sundance, taking home two of the top awards, including the coveted Grand Jury Prize for Dramatic Film, in a year when the festival tried to reclaim its indie cred.

"In the telling of a primal story of a quest, one film achieved in all aspects a rural Gothic realism that blew us all away," said juror Parker Posey. "The cinematography, the screenplay, the casting in this movie – I'm so excited and moved that it's out there at this time right now, and if it doesn't get the attention and respect, I'm gonna stab myself. We gotta support movies like this that won the grand jury prize, 'Winter's Bone.'"

In addition, Debra Granik and Anne Rosellini shared the Waldo Salt Screenwriting Award for their script to "Winter's Bone," based on the novel by Daniel Woodrell, about a young girl who must find her bail-hopping, meth-dealing father in order to save her family's home.

The big night came as no surprise, as throughout the week "Winter's Bone" and "Blue Valentine" were the two films that came up most often when folks were asked to name their favorites.

"Winter's Bone" got a distribution deal with Roadside earlier in the day, Deadline Hollywood reported, a day after it was learned that "Blue Valentine" had been picked up by Weintstein.

With the festival over, people will naturally want to size up whether or not new director John Cooper's stated goal of bringing Sundance back to its indie roots was a success or not.

Eric Mendelsohn, a who was named best director for his work on "3 Backyards," a dense, arty look at the quiet desperation that grips three strangers, whipped the crowd into a frenzy with his speech in defense of the festival.

"A lot of people in the press take potshots at this festival. You know, it's gotten this, it's gotten too big, it's gotten too small – you go make your own festival and then bring it here. Who in America Robert Redford in my mind is single-handedly doing what other governments do for filmmakers. And my mother would want to say that ever since 'The Way We Were,' he can do no wrong."

Still others will want to measure Sundance's success by the number and size of distribution deals that emerge. But with the economy still scuffling, and the uncertain future of what "distribution" will entail in the immediate future, dollars and sense seem a foolish measure.

There was certainly no "Little Miss Sunshine" this year. "Hesher," though very good, will be tough to market. "Blue Valentine" is a serious bummer, however brilliant it may be. For all the excitement around "Buried," how many people do you think will line up to watch Ryan Reynolds in a coffin for 90 minutes? "Winter's Bone," for all the praise heaped on it, was sold for less than a million.

What the independent movie scene needs more than anything is a way to turn their art into money. Thankfully, there are innovative men like Steven Soderbergh, who try anything, like releasing "Bubble" in theaters, and on TV and DVD within the span of four days.

And the movement needs to stop complaining about how expensive movies are to make. You need a pantload of cash to make "Avatar." To make a film like "A Woman Under the Influence," you just need a pantload of talent.
What was not a success was the painful rap done by awards ceremony MC David Hyde Pierce and festival director John Cooper to the beat of the Black-Eyed Peas' "Boom Boom Pow."
"It was Redford's Idea," quipped Pierce.
The most important measure of this year's Sundance is that there was no shortage of quality films on display and there's every reason to think there will be plenty more next year.