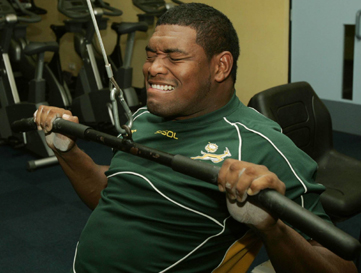 Gyms are constantly coming up with cockamamie gimmicks to make what you do in them sound like fun (as opposed to the reality of wringing, muscle-ripping hardship), so we suppose the program at London's hip Gymbox center is no different. Except for the part where instead of lifting weights made of iron, you lift weights made of people.
According to the Daily Mail, Gymbox's "human weight machine" lets members choose between five people in a wide weight range, from 30 kg. (66lbs., a.k.a. "the Dainty Diva") to 155 kg. (341 lbs.), who sit on adapted workout gear and "will shout words of encouragement if requested." And guess what else? It's all based on science! Gymbox is putting something called "visualization theory" into practice, banking that members will push themselves harder if they can visualize what it is they're lifting. Like the FedEx guy.
It's kind of genius, really: Your trainer is literally part of your workout. There's no giving up after three reps, because your workout equipment will judge you. When can we get some human weights at American gyms? Crunch, are you listening? This is way better than those Billy Elliott dance classes you just added.
Copyright FREEL - NBC Local Media