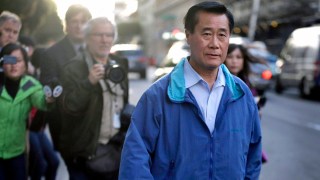 To find the most-arrested populace in California, look no further than the state capitol.
The state Senate has what could be the highest arrest rate in the state, according to the Sacramento Bee. With three of its 40 members arrested this year, the Senate's arrest rate is twice the state average and higher than any major California city.
The newspaper lays out the roll call of shame: Ron Calderon and bribes. Leland Yee and his bizarre litany of alleged crimes (bribes, and weapons trafficking). Add in state Sen. Ben Hueso's bust Friday on suspicion of drunk driving, and that's three senators scandalized.
Statewide arrest figures are 1.3 busts per 40 people, according to the newspaper. Oakland, San Francisco, and San Jose all average less than one arrest per 40 people, or well below the Senate average.
Published at 4:04 PM PDT on Aug 27, 2014 | Updated at 4:08 PM PDT on Aug 27, 2014