The 2016 presidential candidates Saturday reacted with surprise and sadness to the death of Supreme Court Justice Antonin Scalia, but that soon gave way to a debate over his succession.
Even before President Barack Obama vowed Saturday evening to nominate a successor "in due time," Texas Sen. Ted Cruz, Florida Sen. Marco Rubio and Ben Carson had called for the next U.S. president to make that decision.
Cruz took to Twitter to call Scalia "an American hero."
"We owe it to him, & the Nation, for the Senate to ensure that the next President names his replacement," Cruz said.
Cruz said at a Republican debate in South Carolina later that the "Senate needs to stand strong" against confirming Obama's pick. Cruz, a former clerk to then-Chief Justice William Rehnquist from 1996 to 1997, made the case that conservatives were at risk of losing the Supreme Court for a generation.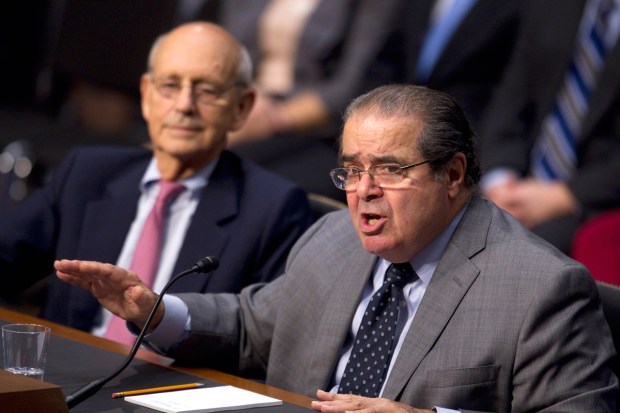 Life of Supreme Court Justice Antonin Scalia
Donald Trump, who tweeted that Scalia's death was "a massive setback for the conservative movement and our country," also called for a fight over Scalia's successor.
"Delay, delay delay," he said during Saturday's debate.
On Facebook, Ben Carson said that Scalia's "towering intellect and trenchant wit has characterized the deliberations and decisions of the high court."
"Given the dire condition our democracy currently finds itself under Obama's lack of leadership, I call on the Senate to stop any attempts to fill this crucial seat until We The People elect a strong Constitutionalist this November," Carson wrote.
Florida Sen. Marco Rubio argued that holding off on a nomination would not be unprecedented.
"In fact it's been over 80 years since a lame duck president has appointed a Supreme Court justice," he said.
Jeanette & I mourn the loss of Justice Scalia, and our thoughts & prayers are with his wife Maureen & his family. pic.twitter.com/e03KRZRM6q

— Marco Rubio (@marcorubio) February 13, 2016
Ohio Gov. John Kasich also argued against a pick before the general election. He said he hoped Obama would nominate someone with "unanimous approval" but he didn't think that would happen.
Gov. Kasich's statement on the passing of Supreme Court Justice Antonin Scalia. pic.twitter.com/MAypwTGQR2

— John Kasich (@JohnKasich) February 13, 2016
Jeb Bush conceded during the debate that the president "has every right" to nominate who he wanted, but he doubted that person would be a consensus pick.
Bush earlier called Scalia "a brilliant defender of the rule of law."
At Mass, Columba & I prayed for Justice Scalia, who was devout in
faith and has been brought home to God in heaven. https://t.co/Bumxa6Ikrs

— Jeb Bush (@JebBush) February 14, 2016
The Democratic candidates also weighed in before the Republican debate.
Senator Bernie Sanders sent along his thoughts to Scalia's family and colleagues, "who mourn his passing."
My thoughts and prayers are with Justice Scalia's family and colleagues, who mourn his passing.

— Bernie Sanders (@SenSanders) February 13, 2016
Hillary Clinton, the last major candidate to release a statement online, sent her thoughts and prayers to Scalia's family, but also castigated Republicans for urging Obama to leave the seat open.
"The Republicans in the Senate and on the campaign trail who are calling for Justice Scalia's seat to remain vacant dishonor our Constitution," she said. "The Senate has a constitutional responsibility here that it cannot abdicate for partisan political reasons."
Statement on the passing of Supreme Court Justice Antonin Scalia: pic.twitter.com/xazj9dDd5c

— Hillary Clinton (@HillaryClinton) February 14, 2016
--Daniel Macht contributed to this article