Republican Donald Trump defeated Democrat Hillary Clinton in a stunner of a presidential race that was called around 3 a.m. on Wednesday.
Despite the race being called so late, newspapers were still able to spread the word of the winning candidate. Many shared their front pages on Twitter.
Donald Trump Claims Presidency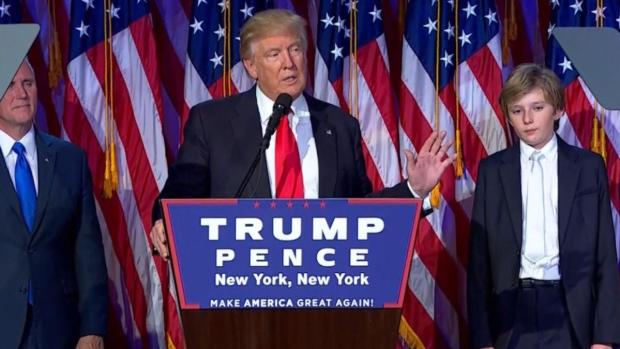 See how they reported the news:
Here are The New York Times, The Wall Street Journal, New York Daily News, The Washington Post, Miami Herald, USA Today, Liberation, El Periodico, The Daily Telegraph, The Herald Sun, Noticia and Milenio.
The Seattle Times
This historic front page will be on your doorstep by 5:30 a.m. pic.twitter.com/R3d1hzZ6Et

— The Seattle Times (@seattletimes) November 9, 2016
Tampa Bay Times
Sneak peek of tomorrow's (later today's?) @TB_Times front page. #tbtvotes#Election2016pic.twitter.com/vFY7gsMlho

— Paul Driscoll (@PDriscollTBT) November 9, 2016
Boston Herald
IT'S TRUMP! pic.twitter.com/DJJsIEsjww

— Boston Herald (@bostonherald) November 9, 2016
Star Tribune
The front page of the @StarTribune on Nov. 9, 2016. pic.twitter.com/YbYQ0zv2oR

— Star Tribune (@StarTribune) November 9, 2016
The Detroit News
Here's a nice big version for downloading: https://t.co/UuvkU3EUIz#presidenttrump#election2016#trumptriumphs@realDonaldTrumphttps://t.co/6JOeHg7mfI

— The Detroit News (@detroitnews) November 9, 2016
Dallas Morning News
Our front page. pic.twitter.com/rctccvVn5v

— Mike Wilson (@mWilstory) November 9, 2016
The Birmingham News
It's real. It's the Front Page.
The Birmingham News Page 1. #ElectionNight#Alabama#Americapic.twitter.com/mHsFT1SZ3Q

— Michelle Holmes (@mlh_holmes) November 9, 2016
Arizona Republic
The front page of today's Arizona Republic. #Election2016pic.twitter.com/omrYBvmMAt

— nicole carroll (@nicole_carroll) November 9, 2016
For more historic front pages, check out the list compiled by the Newseum in Washington, D.C.