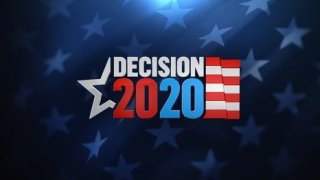 EDITOR'S NOTE: This blog is no longer being updated. For the latest election updates, visit our Decision 2020 page.
Check here for the latest on how the November election is playing out in the Bay Area.
For more election coverage visit:
Also, if you've encountered any voting problems we'd like to hear from you. Click here to let us know about the issue.
Now on to the latest updates.
Monday, Nov. 9
San Francisco District 1 Supervisor-elect Connie Chan declared victory Monday, following a close race that saw her beat out her opponent Marjan Philhour. Details here.
Sunday, Nov. 8
Yesterday, people in Oakland celebrated the projected win of President-elect Joe Biden and Vice President-elect Kamala Harris. Today, people took time to reflect on what it all means. Check out the video below for more.
Saturday, Nov. 7
It's official. Former Vice President Joe Biden beat Republican President Donald Trump for the White House, according to NBC News projections. Here are the details.
Oakland native Kamala Harris made history as the first Black woman elected as vice president of the United States, shattering barriers that have kept men — almost all of them white — entrenched at the highest levels of American politics for more than two centuries. Here's more.
The Castro in San Francisco erupted in a dance party after news broke that Biden and Harris were the projected winners. Over in the East Bay, people went to celebrate at Harris' childhood home. To see how others in the Bay Area reacted to the news, check out the videos below.
Want to know what local leaders had to say about the projected victory? Click here for more.
California may not be getting much national attention three days after Election Day, but officials are still counting votes as thoroughly as anywhere else in the country. Many of the nine Bay Area counties said they expected to be counting through the weekend and into next week. Details here.
Friday, Nov. 6
Voting on California propositions is a tough task. It's a big responsibility that can take hours of research, but these voters say they wouldn't have it any other way.
California leaders are considering making voting by mail a permanent option for all registered voters. Full story here.
A Trump supporter's home display has prompted protests in a Brentwood neighborhood. Here's the latest.
Thursday, Nov. 5
In the presidential race, the road to 270 electoral votes has been a chaotic one, filled with delays, lawsuits and around-the-clock counting of ballots. NBC Bay Area's Political Analyst Larry Gerston talks about the latest predictions and how soon he expects it will all be over. Watch here.
Despite an electoral map that appears to be breaking blue, Bay Area conservatives say they are still very confident President Trump is headed for a second term when all is said and done. Details here.
San Francisco voters overwhelmingly approved several tax measures targeting property owners and big businesses with CEOs paid far higher than their average workers. Read the full story here.
Joe Biden claimed the biggest electoral college prize on Election Night. But in the bluest of blue states, you'll find large pockets of red and vast support for President Trump. Click here for a county-by-county blue-red breakdown of the Golden State.
Wednesday, Nov. 4
Were you following Twitter today? The San Francisco-based company flagged tweet after tweet from President Trump as misleading, or flat-out inaccurate. Scott Budman has more.
While the Trump campaign filed lawsuits to stop the counting of ballots in key swing states, hundreds in the East Bay called for every vote to be counted, no matter how long it takes. The full story here.
Election machines were buzzing in Santa Clara County today, counting the record 751,000 ballots that had been returned as of Election night. More here.
Incumbent Democrats scored victories in all 12 House races involving Bay Area congressional districts. See the results here.
Sonoma County's Measure O, which will provide $25 million a year for mental health and homelessness services over ten years, appeared to be headed for voter approval. Details here.
And a measure to strengthen the office that oversees the Sheriff's Office seemed on the way to approval based on the unofficial vote tally from Sonoma County elections officials. What this means, here.
In Walnut Creek, where four of eight City Council candidates were drawn into the race in reaction to social justice issues, two of the three incumbents on the ballot will be re-elected, to be joined by a former city planning commissioner. For more details click here.
Measure RR, which requires a two-thirds vote from three Bay Area counties, looks like it will comfortably pass with 100 percent of precincts reporting. More here.
In Santa Clara County, voters overwhelmingly backed measures to increase funding for their respective school districts and community colleges. More here.
California voters decision was reflected in election results and showed that the Golden State picked Joe Biden as the potential new president of the United States. Read more about it here.
San Mateo County Measures R and Y -- two opposing measures that address density limits, height limits, and inclusionary housing policies in the city of San Mateo's general plan -- have not yet reached the majority of votes needed for either to pass. What does that mean for the Peninsula county? Here's more.
Earlier Wednesday morning, Proposition 15 and Proposition 21, appeared to be headed for defeat in California. Bob Redell has a breakdown in the video below.
Election Day ended without presidential race results. NBC Bay Area's Political Analyst Larry Gerston explains what Tuesday's results say about the presidential election so far and what could be expected as more ballots are counted. His analysis here.
Proposition 22, Uber, Lyft and DoorDash's bid to keep California drivers independent contractors instead of employees with benefits was victorious Wednesday morning. Here's what's next.
Measure S1 in Oakland is likely to pass and would establish a new Office of the Inspector General under the Oakland Police Commission. The measure requires a simple majority to pass. Details here.
Tuesday, Nov. 3
Proposition 22, Uber, Lyft and DoorDash's bid to keep California drivers independent contractors instead of employees with benefits is projected to pass, according to NBC News. View the latest election results here.
Democracy is in action across the Bay Area. Elections officials described a peaceful and efficient day at the polls as Election Day 2020 has progressed smoothly in the Bay Area's nine counties. Details here.
Gov. Newsom was asked whether he'd consider making the mail-in ballot for every voter a permanent part of California elections. His answer: not only should it be permanent, it should be nationwide. Check out the full story here.
For days we've been telling you about various businesses around the Bay Area that are temporarily shutting down and boarding up because of post-election concerns. What you may not know is that a local company is the brains behind much of that plywood. Read more here.
We've been talking about this for months, if not years and the time is finally here. NBC Bay Area's Political Analyst Larry Gerston talks about President Trump's and Joe Biden's last push for Election Day votes. Details here.
Mary Fierros, a 100-year-old East San Jose resident has never skipped a presidential election. She was born a century ago; the same year that women were given the right to vote, and she has voted ever since Franklin D. Roosevelt was in the White House. Read her story here.
More Muslim Americans are running for political office in the Bay Area than ever before, with 17 candidates seeking election at the local, state and federal level. Here's more.
Many things are at stake on this presidential election; stem cell research, property tax increases, criminal justice changes and much more. Here's a breakdown of California's 12 measures on the ballot.
Did you know that in California you can still register to vote at the polls? Here's what you need to know. If you have questions about how to register, or how to track your ballot if you already voted, you can take a look here.
Turnout has been heavy during the early voting period as Californians cast ballots for president, the state Legislature, local offices and on a dozen statewide propositions. Here are five things to know about the Nov. 3 election.
People across the nation, including the Bay Area, will be anxiously waiting for the results of this presidential election. However, civil unrest is also expected as soon as results start rolling out. Therefore, many businesses have decided to board up their walls and windows in preparation for any demonstrations. Take a look.
Gov. Gavin Newsom was in Oakland this morning visiting the Warriors facility, which opened as a voting center for Election Day. Check it out:
Monday, Nov. 2
Election Day is around the corner and it will go on during a pandemic. Jackie Ward shows how San Francisco's polling places are equipped with PPE for safe voting. Check out her story here.
So how secure is your mail-in ballot? Senior Investigative Reporter Stephen Stock breaks it all down in this explainer.
With so many people voting early, some Bay Area counties are already starting to count ballots. More from Marianne Favro.
Voter turnout appears to be breaking records across the Bay Area and country, but many voters report a growing anxiety as Election Day approaches. Sergio Quintana has the story here.
Speaking of voting numbers. Check out these figures.
Dub the vote: Warriors coach Steve Kerr cast his ballot then spent some time over the weekend greeting people who visited the ballot drop-off location at the Chase Center. Check out the story here.
Voters in San Mateo County spent the weekend dropping off ballots and voting in person early ahead of Tuesday. More from Christie Smith here.
In Napa County, more than half of the county's overall turnout of registered voters have already submitted their ballots. More here.
Meanwhile, some people are spending Election Eve boarding up their business ahead of possible civil unrest.
Jodi Hernandez also looks into how emotions are running high on election eve. View her report here.