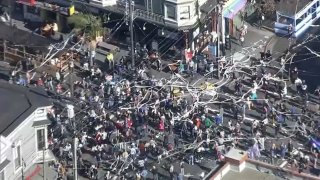 Moments after a down to the wire presidential race was called by NBC News projecting Joe Biden as the new president of the United States, Bay Area officials and residents took to social media and the streets.
Here's a look at how the Bay Area is reacting:
Saturday, Nov. 7
It's official - Former Vice President Joe Biden beat Republican President Donald Trump for the White House, according to NBC News projections. Biden won against a divisive leader who failed to gain control of a deadly coronavirus pandemic, who courted charges of racism and xenophobia and who was one of only three presidents to be impeached. Here are the details.
Oakland native Kamala Harris made history as the first Black woman elected as vice president of the United States, shattering barriers that have kept men — almost all of them white — entrenched at the highest levels of American politics for more than two centuries. Here's more.
California Gov. Gavin Newsom tweeted after the news congratulating Kamala Harris. Check out his tweet:
A few hours after the results came through, Kamala Harris changed her Twitter bio to reflect her new title. Our NBC Bay Area reporter Scott Budman shows us here:
NBC Bay Area reporter Sergio Quintana caught a glimpse of celebrations in the Castro District in San Francisco. Take a look:
Even Caltrain took the time this morning to congratulate the new President and Vice President in a tweet:
In Oakland, Harris' birthplace, people came out to celebrate the Vice President's win:
Among supporters in the celebration was Oakland Mayor Libby Schaaf, who took to Twitter to say America said "Yes to a Black Asian woman from Oakland, California."
San Francisco Mayor London Breed also shared her reactions on Twitter saying it was "an important day for our democracy:"
San Jose Mayor Sam Liccardo showed his support for Biden-Harris via Twitter and released a statement saying "President-elect Biden will provide the leadership and character to bring our country together and move forward—but whether we are willing to come together depends on each of us as much as it depends on them. May we all rise to this moment."
People in San Francisco and Berkeley took to the streets to celebrate the Biden-Harris win, especially in the East Bay where the Vice President-elect is from. Check out the video below!
In Oakland, where Harris was born, people were dancing in the street.