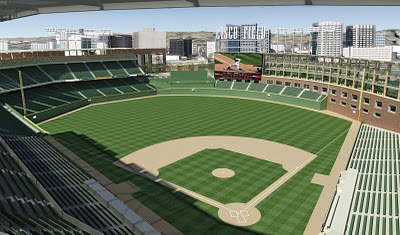 Bay Area residents are getting a chance to see what a Major League baseball stadium would look like in downtown San Jose.
A's owner Lew Wolf has made it crystal clear that he wants to move the team out of Oakland and San Jose Mayor Chuck Reed has made it just as clear he wants the team to move to San Jose.
The Baseball San Jose Blog released the digital pictures Tuesday. They had the same renderings available for folks to see at the San Jose Jazz festival, but this is the first time everyone can take a peek.

The stadium is far from a done deal.
MLB Commissioner Bud Selig and team owners have been mulling Wolff's move for 17 months with no vote. Wolff and Selig are college buddies, but that is apparently not helping grease the voting process.
Who knows if the drawings will do anything to move things along, but at the very least they are interesting to look at in the attached gallery.

One of the biggest backers of the stadium complimented the renderings which were done by a design team at Threesixty Architecture.
"I love how open and close to the field the seating is, and the creative arching of the ballpark along Autumn Street is very cool, follows the flow of the adjacent river on the other side of the street," Baseball San Jose co-chair Michael Mulcahy said. Mulcahy's fellow chair is former San Jose Mayor Susan Hammer.

Mulcahy said the plan will make for a classy and intimate baseball experience.
Lew Wolff's Wolff Urban LLC picked up the tab.