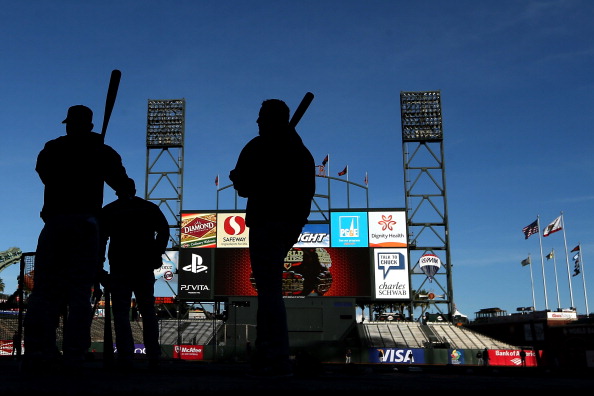 It shouldn't be a huge surprise, but Las Vegas is favoring the Tigers over the Giants in the 2012 World Series.
According to Bovada.lv, the Tigers are significant favorites too, checking in at -175 to win the series. (If you bet $100, you would get something like $60 in winnings if the Tigers prevailed.) Meanwhile, the Giants are +155 to win the series (meaning bet $100 and get $153 in winnings).
This shouldn't be too stunning though -- the Tigers a) are a more "popular" team, b) swept the Yankees to get here instead of storming back from down 3-1, and c) could potentially start Justin Verlander three times in a single series.
Having Verlander alone makes them the most terrifying team in this matchup. In fact, when you look at the MVP odds, Verlander is one of the top favories. Bovada has Verlander at 8/1 to win the World Series MVP, which is actually a pretty decent price. Sportsbook.ag has the Tigers ace slotted at 2/1 (!) to take that hardware, which makes him the favorite there.
Bovada's fave is Miguel Cabrera, at 5/1. Buster Posey is next at 13/2 and then Verlander. Prince Fielder checks in at 8/1 and is followed on Bovada by Hunter Pence, Delmon Young, Pabloa Sandoval and Marco Scutaro at 12/1. (Both Young and Scutaro picked up the hardware in their respective championship series.)
If you want a sleeper, Brandon Belt at 20/1 is a long shot.
The most likely outcome of this series, by the way, is Detriot 4-2. Bovada slots that at 4/1 odds, with the Tigers winning 4-3 at 9/2 along with the Giants winning 4/3. So Vegas expects a dramatic series.
If you're thinking it might be less spicy, you can bet on a Giants sweep at 18/1 (not that great in the scheme of things) or the Tigers sweeping at 15/2 (kind of horrible odds, actually).
But the primary thing to take away from all of this? The Giants aren't the favorites in Vegas. And that's probably just fine with them.