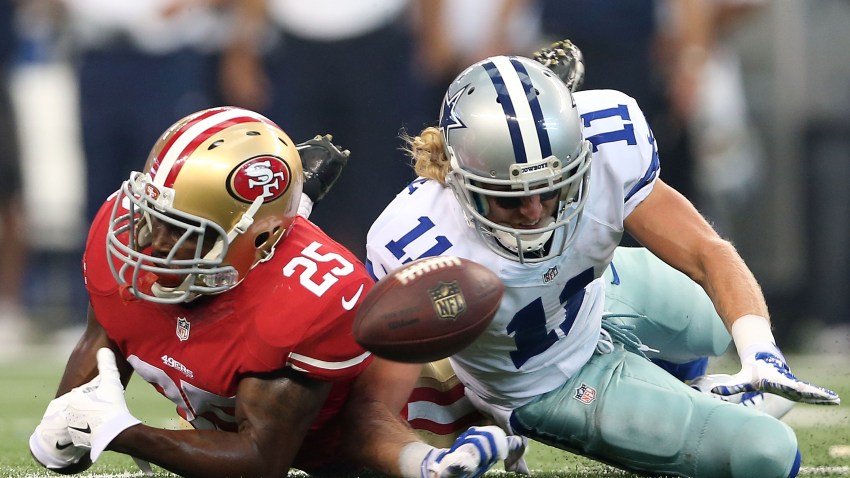 There were high hopes for defensive back Jimmie Ward last season when the 49ers made him their No. 1 pick.
The college safety was targeted to be the team's nickel cornerback and, eventually, a starter at safety.
But as Ward gets ready to start his second pro season, he may be in danger of being surpassed by others on the 49ers roster.
He missed the final seven games of the 2014 season with a broken foot, plus had his typical rookie problems in pass coverage when he was on the field. According to Pro Football Focus, Ward gave up a 134.4 passer rating on passes aimed at him last season.
Now, this offseason, Ward has been unable to get back on the field as he recovers from foot surgery. He missed organized team activities (OTAs) and the three-day, full-squad minicamp held last week.
Meanwhile, the 49ers drafted safety Jaquiski Tartt and have young cornerbacks such as Keith Reaser, Dontae Johnson, Marcus Cromartie and Kenneth Acker who have had solid offseasons.
But as long as Ward is ready to go for July's training camp, he should have enough time to make his points for playing time. And he recently told Eric Branch of the San Francisco Chronicle that he'll be good to go.
"I should be (ready)," he said. "I feel good right now. I feel fine and everything is coming back positive."
It was discovered before the 2014 draft that Ward had a fracture in his foot, and surgery was performed to correct it. A titanium screw was inserted to stabilize the metatrasal. But in a November game against the Saints, the bone was broken again.
"They didn't put in a big enough screw, supposedly," Ward told Branch. "Hopefully this time it fits and it works out for me. I don't have any concerns right now. I'm moving well, feeling good, not aching. Feels good to me right now."