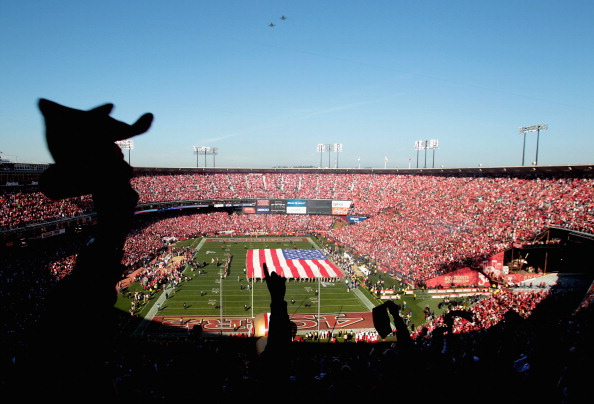 The San Francisco 49ers are making their 13th trip to the NFC Championship game this Sunday.
It will be the ninth time San Francisco will host the game, the eighth time at Candlestick Park. San Francisco hosted the first-ever NFC title game at the old Kezar Stadium in Golden Gate Park in 1971. They lost to the Dallas Cowboys.
The Cowboys are the only team to make it to the front door of the Super Bowl more than the Niners, with 14 trips to the Conference championship. The Cowboys beat the 49ers again in 1972. The 49ers got their revenge in 1982, beating the Cowboys and punching their first ticket to the Super Bowl in the first title game at Candlestick Park. Five more trips awaited the 49ers between 1984 and 1991.
They fought (who else?) the Cowboys in three straight NFC title games between 1993 and 1995, earning one trip to the Super Bowl. In 1998 the Niners made their last trip to the game losing to Brett Favre and the Green Bay Packers.
On Sunday the 49ers get another familiar playoff foe in the New York Giants. They've met eight times in the playoffs. That's tied with the Giants-Bears and Cowboys-Rams as the most common playoff match-up in NFL history.
The Giants, by the way, have a 3-11 record in San Francisco since 1980.