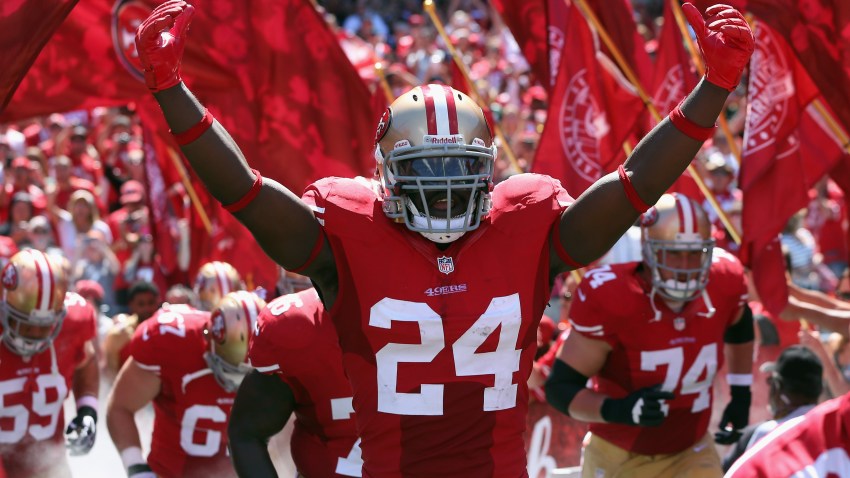 During training camp and this summer's exhibition season, second-year Seahawks wide receiver Jermaine Kearse showed his explosiveness.
The former University of Washington standout caught six passes for 72 yards and two touchdowns to earn a roster spot, and nailed down duty as the team's No. 1 kick returner by returning one for 107 yards and a score against the Denver Broncos.
As Seattle quarterback Russell Wilson said in August, "Jermaine deserves the most improved award. He was great before he came in, but he's electrifying out there. He does a lot of great things."
So when the 49ers travel to Seattle Sunday for a nationally televised evening matchup against the Seahawks at CenturyLink Field, Kearse will be on the mind of San Francisco's kickoff coverage team.
If the Niners can contain Kearse – who didn't get a chance to return a single kickoff in a victory over the Carolina Panthers this past Sunday – they can keep the Seahawks bottled up deep on their side of the field. That was something San Francisco didn't do last December when it was beaten at CenturyLink by the 'Hawks 42-13 and Seattle kick returner Leon Washington averaged 31 yards on his two returns, including a 42-yarder.
But based on the Niners' performance in their Game 1 victory over the Green Bay Packers this past Sunday, they may be up to the task. Green Bay return man Jeremy Ross brought back three kickoffs for just a 13.3-yard average, with a longest of only 17 yards.
The 49ers knew they needed to get better in kickoff coverage after giving up 26.9 yards per game in 2012, which ranked 31st in the NFL. They also allowed a kickoff return for a score in the Super Bowl. So, they brought in some proven special teams players such as Dan Skuta, Craig Dahl, Marlon Moore and Bubba Ventrone and rookies Corey Lemonier and Nick Moody to complement solid special teamers already on the roster such as Anthony Dixon, C.J. Spillman and Tramaine Brock.
This summer, 49ers head coach Jim Harbaugh acknowledged that improving special teams was a priority.
"We are taking a special teams unit that's been very good, very productive, and seeing if we can't get even better," he said. Now, says, Harbaugh, the team's special teams units "have the chance to be elite."
The kickoff coverage unit already has had to make one change, with an injury to Moody. Moody was put on injured reserve, and the 49ers re-signed Kassim Osgood, a former Pro Bowl special teams tackler who was among the team's final cuts.
Now, against the Seahawks Sunday night, the 49ers figure to be tested in every area by a Seattle team that is 1-0 and considered solid across the board: offense, defense and special teams.
With new kicker Phil Dawson's strong leg – he had four touchbacks against the Packers – and the improved play of the coverage unit, the Packers were constantly forced to start drives deep in their own territory on the 19½-yard line, reported Eric Branch of the San Francisco Chronicle.
If the 49ers can replicate that performance Sunday night, it could be a big factor in what should be a very tight game. Oddsmakers have the Seahawks as a 21/2- to 3-point favorite.