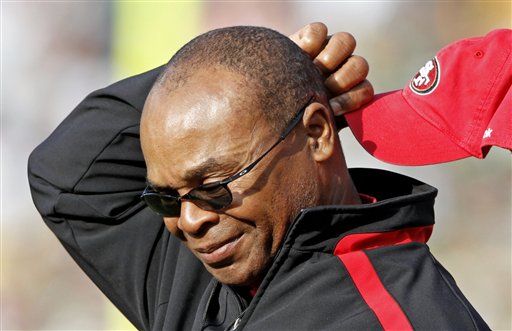 Aaron Rodgers made San Francisco pay for a draft-day snub in 2005 and the Green Bay Packers survived a second-half surge by the 49ers for a 30-24 victory. Rodgers threw touchdowns to Greg Jennings and Jordy Nelson, and Ryan Grant rushed for 129 yards and a score.
The Packers (6-4) won their second straight game, rebounding from a midseason skid to emerge as a solid playoff contender going into their Thanksgiving Day date at Detroit.

Alex Smith recovered from a rough start to make things interesting with three second-half touchdowns, including rookie Michael Crabtree's first career score, but it wasn't enough for the 49ers.
The Packers' win was dampened by a left knee injury to outside linebacker Aaron Kampman and a knee injury to cornerback Al Harris. It was not immediately clear how severe their injuries were.
Backed into his end zone after the Packers downed a punt at the 2-yard line early in the fourth quarter, Smith threw an interception to Nick Collins. Rodgers took over at the 11 and converted a third down with a pass to tight end Jermichael Finley. Grant scored on first-and-goal from the 1 to give the Packers a 30-10 lead.
But Josh Morgan returned a kickoff 76 yards and Smith threw a 24-yard touchdown to Vernon Davis, cutting Green Bay's lead to 30-17 with 10:37 remaining. With Harris and Kampman still sidelined, Smith had long completions to Isaac Bruce and Crabtree on the next series, setting up a fourth-and-5 at the Green Bay 10. Smith found Frank Gore for a touchdown, cutting the lead to 30-24 with 5:56 left.
But the Packers put together a drive that included a third-down conversion by Rodgers on a sneak, allowing them to run out the clock. Rodgers was 32 of 45 for 334 yards, including 274 in the first half as the Packers took a 23-3 lead. Rodgers got a serviceable performance from his offensive line, which allowed two sacks Sunday. Coming into the game, Rodgers had taken a league-worst 41 sacks.

Although Smith's second-half rally was impressive -- he finished 16 of 33 for 227 yards -- Rodgers' performance provided further evidence that the Packers got the better end of the deal when the 49ers chose Smith with the No. 1 pick in 2005. Rodgers, who also was under consideration for the top choice, slipped all the way to the Packers at No. 24.
Next Sunday the (4-6) 49ers host the Jacksonville Jaguars at Candlestick.

Copyright AP - Associated Press