USAIN BOLT GOES FOR MORE GOLD
The Fastest Man Alive will compete in the 4x100 meter final late Friday. Usain Bolt has already electrified the Rio crowd by winning the 100 meter and 200 meter dash.
HOW TO WATCH: Coverage of track and field events begins live online at 4:10 p.m. PT. Bolt's final Rio race is scheduled for 6:35 p.m. PT. You can also see Bolt's race later during NBC's primetime broadcast.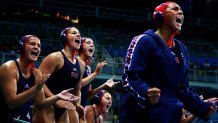 US WOMEN'S WATER POLO TEAM FACES ITALY FOR GOLD
The U.S. women's water polo team, led by team captain Maggie Steffens of Stanford and a San Ramon native, looks to defend its London title against Italy. It's the U.S.'s fourth time fighting for gold in five Olympic appearances. The U.S. is looking to become the first women's water polo team to win back-to-back gold medals. They have medaled in every Olympics since women's water polo has become part of the Games.
HOW TO WATCH: Watch the gold medal match live online at 11:30 a.m. PT or later during NBC's daytime programming.
BOXER CLARESSA SHIELDS IN THE WOMEN'S MIDDLEWEIGHT SEMIFINALS
Claressa Shields has become a force to be reckoned with after making history at the 2012 London Olympics, becoming the first American woman to win gold in the sport.
Now 21, Shields is more confident than ever as she attempts to defend her Olympic championship. She'll face Dariga Shakimova of Kazakhstan on Friday.
HOW TO WATCH: Catch Shields live online in the middleweight semifinals. Boxing coverage begins live online at 10 a.m. PT. Shields is scheduled to compete at 11:30 a.m. PT.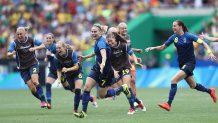 SWEDEN TAKES ON GERMANY IN GOLD MEDAL WOMEN'S SOCCER MATCH
After knocking the U.S. team out of the Olympics on penalty kicks, Sweden defeated host Brazil - also on penalty kicks. Now the Swedes are one win away from gold. The only thing standing in their way: Germany.
HOW TO WATCH: Catch the women's gold medal match between Germany and Sweden live online and on NBC Sports Network beginning at 1:30 p.m. PT.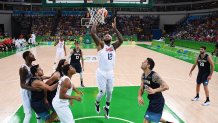 U.S MEN'S BASKETBALL TEAM COMPETES IN THE SEMIS
After some early scares, the U.S team rebounded Wednesday in a rout over Argentina, 105-78, to advance to the semifinals against Spain. Now the U.S. team, featuring Golden State Warriors' stars Klay Thompson, Draymond Green and Kevin Durant, is one win away from playing for the gold.
HOW TO WATCH: Watch Team USA live online or on NBC Sports Network at 11:30 a.m. PT.