BOLT RACES AGAINST GATLIN FOR SECOND GOLD OF GAMES
Usain Bolt attempts to capture his second gold medal in Rio as he competes in the men's 200m final. He's also after another historic accomplishment -- gold in both the 100m and 200m sprint at three consecutive Olympic games.
HOW TO WATCH: Coverage of track and field begins live online at 2:35 p.m. PT. The Bolt/Justin Gatlin showdown is scheduled for 6:30 p.m. PT.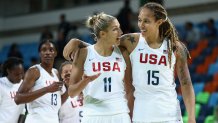 TEAM USA WOMEN'S BASKETBALL TAKES ON FRANCE IN SEMIS
Team USA women's basketball will face France with a spot in the gold medal match on the line.
After a slow start in the quarterfinals against Japan, the U.S. went on an 8-0 run to close the second quarter and eventually won 110-64.
With their 47th straight Olympic win, the U.S. now faces France, which has never beaten the U.S. in Olympic play.
HOW TO WATCH: Catch Team USA in its quest to best France live online at 3 p.m. PT.

ASHTON EATON CONTINUES QUEST TO DEFEND OLYMPIC GOLD IN DECATHLON
Oregon-native Aston Eaton became the first decathlete to win the IAAF Athlete of the Year award after breaking his own decathlon world record. Now he's looking to become the repeat decathlete Olympic champion.
HOW TO WATCH: Catch Eaton in his quest to defend his Olympic gold live online as decathlon coverage begins live online at 5:30 a.m. PT.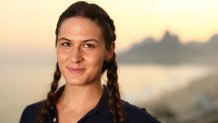 ADELINE GRAY AND HELEN MAROULIS ATTEMPT TO WIN TEAM USA'S FIRST GOLD IN WOMEN'S WRESTLING
Adeline Gray was a strong candidate for the 2012 London Games, but her 67kg (148 lbs) weight class was not an Olympic division at the time. Forced to drop down to a lower weight class, Gray shed 30 pounds in order to compete in the Olympic Trials, but only managed a runner-up finish and did not qualify.
After a tough defeat in the final round of the U.S. Olympic Trials in 2012, Helen Maroulis bounced back to attain a world #1 ranking in her weight class. In the ramp-up to the Rio Olympics, the six-time national champion finally broke through for her first career world title in 2015.
HOW TO WATCH: Gray and Maroulis hope to win for the U.S., which has never had a woman win an Olympic gold in wrestling. Catch the elimination rounds coverage live online beginning at 6 a.m. PT.
SHAKUR STEVENSON BACK IN THE RING
New Jersey native Shakur Stevenson climbs back into the ring in the boxing semis to face Russia's Vladimir Nikitin. Stevenson is guaranteed a medal in the bantamweight division following his decisive win in the quarterfinals, but he's planning on bringing gold back to the Garden State.
HOW TO WATCH: Boxing coverage begins at 10 a.m. PT. Catch Stevenson live online in his quest for gold at 10:30 a.m. PT.