TEAM USA MEN'S BASKETBALL BEGINS QUARTERFINAL PLAY
The U.S. men's basketball team, featuring Golden State Warriors' players Klay Thompson, Draymond Green and Kevin Durant, is coming off a major scare as they enter the quarterfinal round by narrowly defeating France 100-97.
WATCH: Jessica Aguirre Previews Bay Area Olympians in Team Knockout Stages
It was the second straight game a less talented squad played to the end with the U.S. If not for Thompson's 15-point third quarter, the U.S. may not have come away with the win.
The team will look to bounce back as they face Argentina in the quarterfinals
HOW TO WATCH: Catch the U.S men's team live online at 2:45 p.m. PT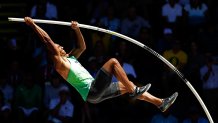 ASHTON EATON BEGINS QUEST TO DEFEND OLYMPIC GOLD MEDAL
Ashton Eaton earned the title "world's greatest athlete" by winning decathlon gold medals at the 2012 London Olympics and at the 2013 and 2015 World Championships. In 2015, the Oregon-native became the first decathlete to win the IAAF Athlete of the Year award after breaking his own decathlon world record. He also holds the indoor heptathlon world record, as well as heptathlon gold medals from the 2012, 2014 and 2016 World Indoor Championships.
HOW TO WATCH: Catch Eaton in his quest to defend his Olympic gold live online at 5:30 a.m. PT or catch the highlights during NBC's primetime broadcast.
USAIN BOLT BACK ON THE TRACK
Bolt already has one Rio gold in the men's 100m. Now he's competing in the 200m semifinals as he continues his pursuit to win gold in three events across three Olympic games.
HOW TO WATCH: Evening track and field coverage begins live online at 4:20 p.m. PT. Bolt's race is expected after 6 p.m. PT.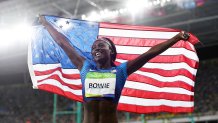 TORI BOWIE RUNS FOR GOLD IN WOMEN'S 200M
American Tori Bowie, who has already won a silver in the women's 100m, looks to add to her medal count as she races in the 200m final. Standing in her way will be Jamaica's Elaine Thompson, who won gold in the 100m.
HOW TO WATCH: Evening track and field coverage begins live online at 4:20 p.m. PT. Catch Tori Bowie live online at 6:30 p.m. PT.
WU JINGYU GOES FOR RECORD THIRD STRAIGHT GOLD IN TAEKWONDO
Before she achieved Olympic stardom, a young, unknown Wu Jingyu was given a small part in a Chinese film called "Taekwondo." In the movie, she plays a young version of the main character, who grows up to become an Olympic champion. Five years later, Wu herself became an Olympic champ for the first time in her home country during the 2008 Beijing Games – proof that sometimes, life really does imitate art. After a repeat performance in Longon, Wu will have a chance to make history at the 2016 Olympics. With a victory in Rio, the Chinese flyweight (49kg/108 lbs) would become the first taekwondo fighter – male or female – to win a gold medal at three consecutive Olympics.
HOW TO WATCH: See Jingyu live online when men's and women's taekwondo coverage begins at 5 a.m. PT. Quarterfinals and semifinals begin after 10 a.m. PT and the finals start after 4 p.m. PT.