With a stocked roster and picks that addressed specific needs with their first three selections of the draft, the 49ers entered Saturday with a full pocket of picks and a chance to gamble with house money.
The 49ers made seven selections Saturday in Rounds 4-7, and if none of them ever plays a down in the NFL, the team will still be fine.
After taking safety Eric Reid in Round 1 Thursday and defensive end Cornelius "Tank" Carradine and tight end Vance McDonald in Round 2 Friday, San Francisco GM Trent Baalke already had earned kudos for re-stocking his roster and – in conjunction with the signing of some key free agents – keeping his team primed for another run at an NFC West championship.
So on Saturday, Baalke had the luxury of going after high-upside talent that had slipped down the draft boards or been undervalued.
The Niners began their final day at Radio City Music Hall in New York by taking Louisiana Tech wideout Quinton Patton and South Carolina running back Marcus Lattimore in the fourth round, then added defensive end Quinton Dial of Alabama in the fifth. In Round 6 they picked up Florida State linebacker (and potential special-teams standout) Nick Moody. And, finally, in Round 7 they picked up quarterback B.J. Daniels of South Florida, offensive tackle Carter Bykowski of Iowa State and cornerback Marcus Cooper of Rutgers.
Patton and Dial could prove to add good depth to San Francisco's receiving and defensive line corps, and Daniels was a dual-threat quarterback at South Florida (52 passing TDs, 25 rushing) who might thrive as either a backup to Colin Kaepernick in the read-option offense or as a player on the scout team, keeping the 49ers' defense ready to face other read-option attacks (such as Russell Wilson's Seahawks).
But it's very possible that the biggest pickup on the final day of this draft for the 49ers will be a guy who may not even suit up in 2013: Lattimore.
Going into this past college football season, South Carolina's Lattimore was the highest-ranked running back in the nation. He was the NCAA's freshman of the Year in 2010 when he rushed for 19 touchdowns and 1,197 yards, and in three seasons for the Gamecocks, the 6-foot, 232-pound back rushed for 38 TDs.
But Lattimore's season in 2011 was cut short by a torn knee ligament. Then, after working to come back for 2012, he was off to a terrific start when he tore three ligaments in his right knee in a game against Tennessee, ending his season and his college career, when he later declared for the NFL draft.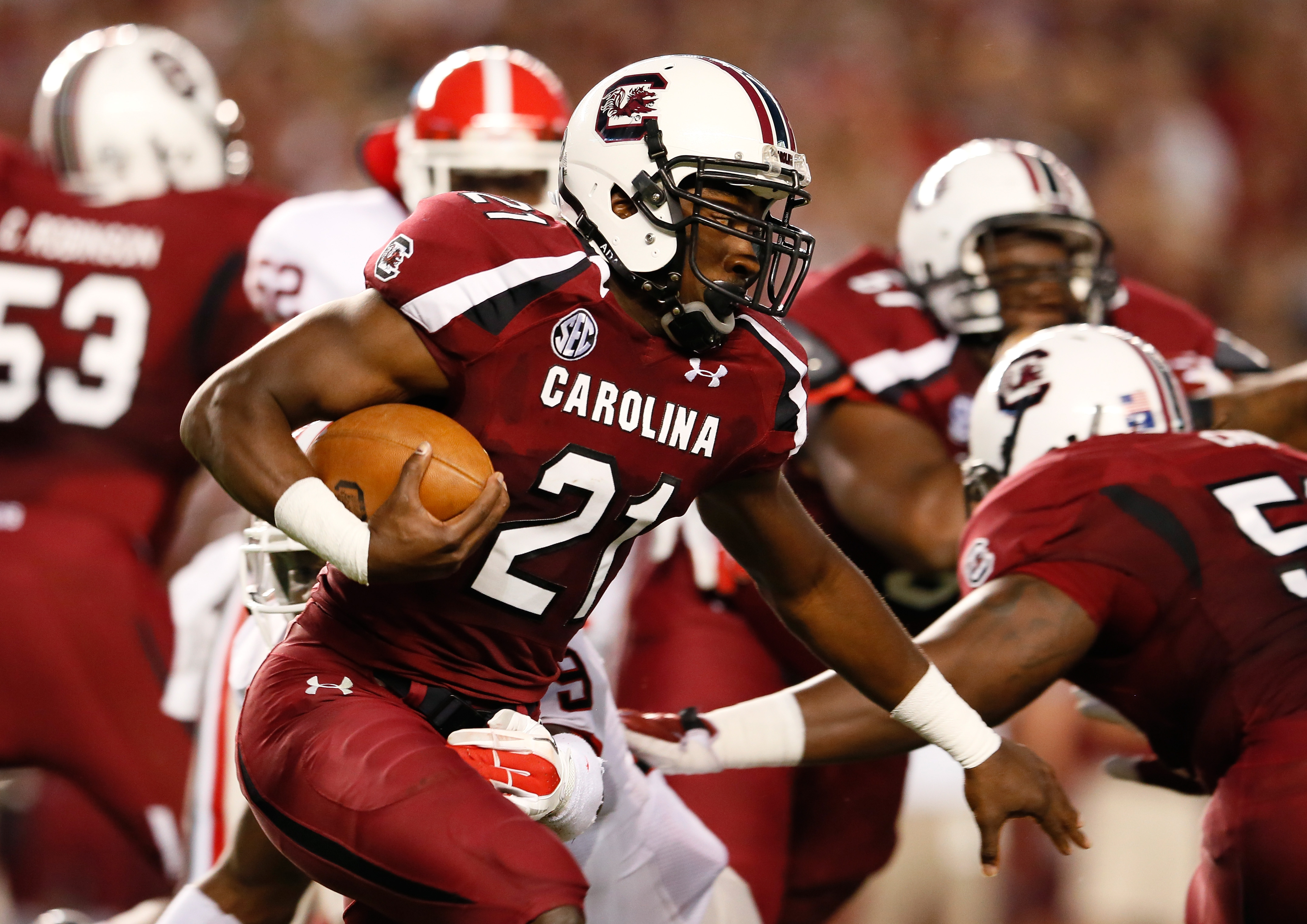 Now, however, Lattimore is on the road back after surgery and rehab, and is running again and doing other drills. It's likely that the 49ers will put him on the reserve-non-football injury list this season as he fully regains his strength. If he can, Lattimore – a combination of power and speed – could eventually be the successor to starting running back Frank Gore, who turns 30 next month.
Because of his already talented roster and the number of draft choices he had, Baalke could afford to use a fourth-round pick on a player who might not be able to help the team until 2014. On the other hand, though, Lattimore could prove to be a high-impact steal.
Niners head coach Jim Harbaugh told Cam Inman of the Bay Area News Group that, "We're not going to put him on the field until he's 100 percent, and that may not be this year."
But, said Harbaugh, "We're really excited about him."
With Gore, LaMichael James and Kendall Hunter on the roster, the 49ers should be fine for 2013 without Lattimore. By being patient and waiting for Lattimore to get back to his old self, the 49ers could count this 2013 draft as being one of their best ever, from top to bottom.
Wrote Sports Illustrated's Chris Burke Saturday: "That patience may be rewarded in a big way."