Since the days of Daryle Lamonica throwing bombs to Warren Wells, the Oakland Raiders have always gone for the long ball.
Al Davis liked to go deep. The dink-and-dunk stuff wasn't for him.
So, on Tuesday, the Raiders took a page from Davis' playbook and heaved the ball long in trading for quarterback Carson Palmer.
It was a bold move with a steep price. Whether it's a winning move will be determined over the course of this season and beyond, because this trade will have ripple effects.
But if there's any doubt the Raiders are all in this year – head coach Hue Jackson says the Raiders can win the AFC West and go deep into the playoffs – they were erased by Tuesday's trade for Palmer.
With the season-ending injury to Jason Campbell Sunday in their victory over the Browns, the Raiders were left with Kyle Boller and rookie Terrelle Pryor at quarterback. That wasn't going to cut it.
After discovering that Jacksonville cast-off David Garrard was unavailable, they went hard after Palmer, who has been in "retirement" this season in a contract dispute with the Bengals.
The Raiders landed him, according to ESPN reports, for two draft choices, a first-rounder in 2012 and a conditional first-rounder in 2013 (should Palmer meet certain playing and performance clauses).
Giving up two first-round picks is a hefty price for any player, but especially Palmer, who could at this point be considered a high-risk, high-reward quarterback. The Raiders already had traded away next year's second- and third-round picks in previous deals, so Oakland will be hamstrung in next year's draft.
On the plus side, however, Palmer – who'll be 32 in December – is a two-time Pro Bowler and former No. 1 overall pick who twice has led the Bengals into the playoffs and has put up some huge passing numbers for Cincinnati. He and Jackson also have a good relationship, dating to Jackson's time as a Bengals assistant.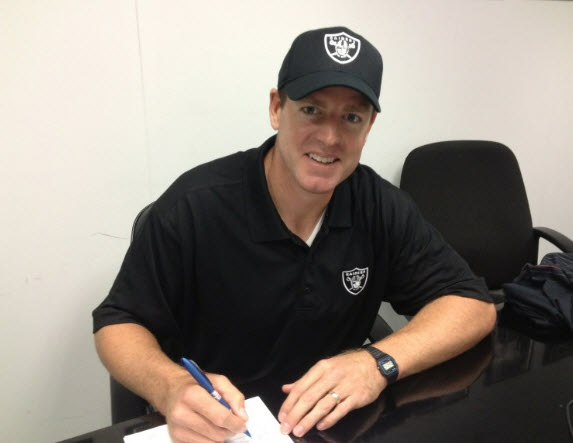 On the down side, Palmer hasn't played since last January, has been said by some to have lost arm strength since having elbow surgery in 2008, and his touchdown-to-interception ratio the past few seasons hasn't been particularly good.
But, if the Raiders are to make a run at the playoffs this season, they likely weren't going to get there with Boller. And, if Palmer is healthy and rumors of his declining arm strength aren't accurate, he gives the Raiders a proven drop-back passer who fits in with their "vertical game" philosophy and deep-ball receivers such as Denarius Moore, Jacoby Ford and Darrius Heyward-Bey.
In eight seasons in Cincinnati, the former Heisman winner – often saddled with a subpar supporting cast – had a 46-51 record as a starter, but holds career franchise records for completion percentage (62.9), had 17 300-yard games and threw 154 touchdowns. He also threw a franchise-record 103 interceptions.
"I like it," said former NFL coach Herm Edwards, now an analyst, Tuesday on ESPN. "It's a good deal for the Raiders and for Cincinnati. …
"The Raiders need a quarterback who can throw downfield, and he (Palmer) can do that."
Palmer reportedly had been working out in California with former Jets quarterback Ken O'Brien and former Bengals receiver T.J. Houshmandzadeh, but whether he's ready to immediately step in and run the Raiders offense this week at O.co Coliseum against the Chiefs seems a long shot. It could be Boller takes most of the snaps this week as Palmer learns the system, then uses the bye week to become even more acclimated before starting against the Broncos on Nov. 6.
That would likely be the conventional approach, however, and Jackson and the Raiders are hardly conventional. It could also turn out that Palmer trots onto the field Sunday as the starting quarterback.
One thing's certain: without a bold move, the Raiders likely weren't going to win the AFC West. If Palmer pans out, however, Oakland could be on the verge of something big.
"Without the Raiders making a big move, the Chargers were going to waltz to a division title," writes CBS Sports.com's Will Brinson. "Now they've got some stiffer competition if Palmer can get back his old mojo, Oakland could absolutely challenge for the AFC West crown."