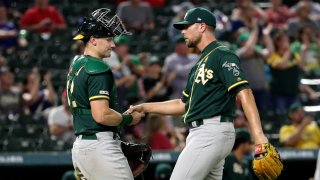 Winter Meetings head to southern California next week and there are already some big names receiving big paychecks.
It appears the moves are going quicker than they started last offseason. And for the A's, one of their priorities is their pitching, but of the bullpen variety.
"We will continue to be in conversations with relief pitchers," Forst said Thursday in a conference call then reiterated from an interview on Wednesday that the team is still in talks with Blake Treinen.
The 31-year-old was non-tendered on Monday making him a free agent, but Forst said they're keeping the option open to re-sign him.
"We'll continue that conversation, but there's obviously going to be a lot of interest in him."
Treinen leaves behind a rough season that was the complete opposite of his 2018 All-Star campaign.
This season, he finished with a 4.91 ERA with just 59 strikeouts in 58.2 innings. The season prior? A 0.78 ERA with a 0.834 WHIP. He was also in AL Cy Young and MVP talks.
The good news for Treinen is the market is very forgiving with relief pitchers. One bad season could be right ahead of something great.
The A's and lefty Jake Diekman agreed to terms on a two-year contract on Tuesday, a priority for the team, Forst said.
[RELATED: Profar trade gives A's infield clarity]
But they're not done yet and he mentioned it had been a while since the A's went with a bullpen of less than eight guys.
"I think it's an area we will continue to address if possible," Forst added.
Copyright C