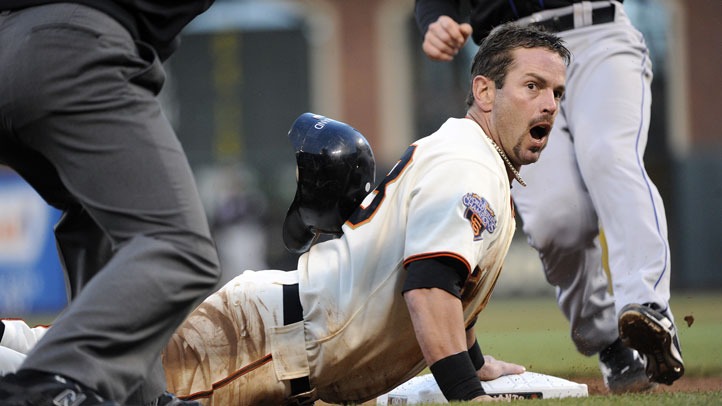 In the middle of a nightmarish spiral that (hopefully) culminated with Tuesday's 5-2 loss to the Cubs, the Giants needed something to shake the team. Does "designating Miguel Tejada and Aaron Rowand for assignment" count?
Yes it does and that's exactly what the Giants did Wednesday, providing some spice to an otherwise depressing Wednesday for the team.
In place of the underachieving Miggy and Rowand, Pat Burrell has been activated and the Giants purchased the contract of Brett Pill from Triple-A, the team announced.
The moves are surprising for a number of reasons. One, Rowand and Miggy are overpriced, non-productive veterans (yes, it's counter-intuitive, just go with it).
And two, what took so freaking long? (Possible answer: Rowand was scheduled to make $12 million next year, which is what the Giants will now pay. Yikes.)
Perhaps it was Tejada's recent refusal to bunt, or perhaps it was just the fact that this team needed a swift something to the rear in order to have any shot of getting back on track and trying to catch the Diamondbacks.
The moves have been described as "bombshells," "bloodshed" and "awesome," "wonderful" and "!!!!!!!!!!!!!!!!!!!!!!"
And that's about accurate -- no one saw this coming because of Brian Sabean and Bruce Bochy's (blind) loyalty to their veterans, but it's impossible to say that this is necessarily bad, if only because neither guy was really doing much of anything to warrant substantial playing time.