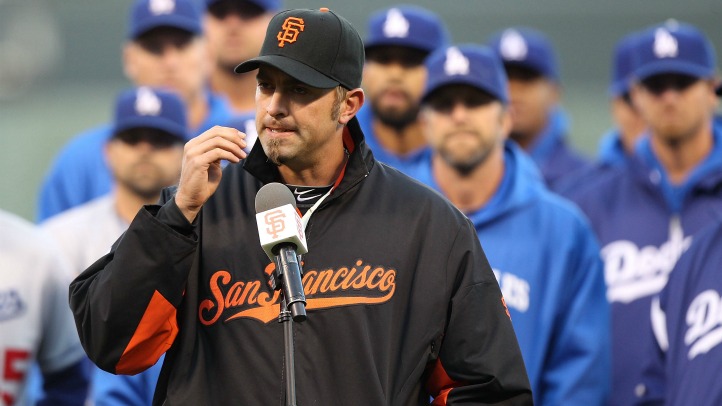 Even though there's a lot of legal attention relating to the Bryan Stow attack right now, it's still key to remember what's important: Stow's recovery.
Fortunately, Jeremy Affeldt there to remind us.
The Giants reliever took some time out of his day to stop by the intensive-care unit at the hospital and visit with Stow who remains in critical, but stable, condition.
"I grabbed his hand, told him who I was and prayed with him a little bit and encouraged him," Affeldt said, per the Associated Press. "His eyes opened up, and I think he kind of looked over my way. I don't what that is or isn't, but I was able to do that and get more of what was going on and what had taken place.
"So, for me, it was a big deal."
Affeldt brought along a banner for Stow from the team -- a surprise for everyone there -- and some Giants apparel for the family members, who he'd yet to meet.
"I figure if I talk about a team, I represent the team. If I talk about a family, I represent the family. Well, I never met the family," Affeldt said.
When a suspect was recently arrested in connection with the assault, Affeldt spoke about the arrest. Though he was obviously thrilled at the possibility of closure, he didn't sound entirely optimistic.
But that's only because he seems to get the big picture. And that was even more clear following his hospital trip.
"It was tough to take in at first. It was pretty shocking to see. Just seeing what took place and seeing him there, for me it was an eye-opener," Affeldt said. "It kind of put me in an interesting mood. You're a little humbled, a little melancholy mood. It shows you there's more to life than this game."
Stow's situation has weighed heavily on the Giants from the beginning of the season, but it's pretty clear that Affeldt is one of the guys most affected by the fan's situation.
And while that won't bring Stow's family any closure, it's still a wonderful reminder just how capable of caring athletes can be.