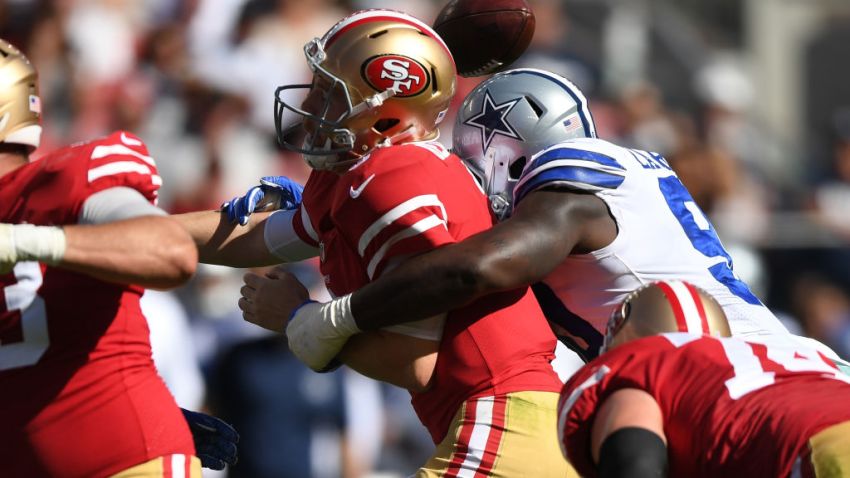 This time, it wasn't close. This time, the 49ers didn't have a chance.
After losing five straight games by no more than three points, San Francisco was overwhelmed by the Dallas Cowboys on Sunday, 40-10, to fall to 0-7 this season.
The 49ers gave away three fumbles — two by rookie quarterback C.J. Beathard in his first pro start — and had no answer for a Dallas offense that was balanced and lethal. Dak Prescott threw for three touchdowns for the Cowboys while running back Ezekiel Elliott ran for 147 yards and three scores.
From the outset, the 49ers made a mistake that allowed the Cowboys to get rolling. Rookie Trent Jones fumbled while returning a punt after Dallas' first possession, giving the Cowboys the ball on the San Francisco 20-yard line. Three plays later, Elliott went in from a yard out to give Dallas a 7-0 lead.
The Cowboys came right back on their next possession to go up 14-0 on Elliott's 25-yard TD run.
The Niners had a chance to get back into the game just before halftime, trailing 20-3, after driving to the Dallas 5, but Beathard was sacked and stripped of the ball. Beathard lost a second fumble while being sacked at the end of the third quarter, leading to another Dallas touchdown to start the fourth quarter.
By that point, however, the Cowboys had a 40-3 lead and the victory in the bank.
The 49ers came back to score on Beathard's 4-yard run later in the period with the outcome already determined.
It was a disappointing day for the 49ers, who honored former standout wide receiver Dwight Clark at halftime at Levi's Stadium.
It was the third straight game of 30 or more points for the Cowboys, who dominated the 49ers defense Sunday, especially on the ground. They averaged 6.2 yards per carry, gaining 265 yards rushing on 43 attempts while amassing 501 total yards in the game.
In his first start, Beathard had a tough day, fumbling twice and being sacked five times. He completed 22-of-38 passes for 235 yards.
The 49ers will try again to get their first win of 2017 at Philadelphia next Sunday against the Eagles.