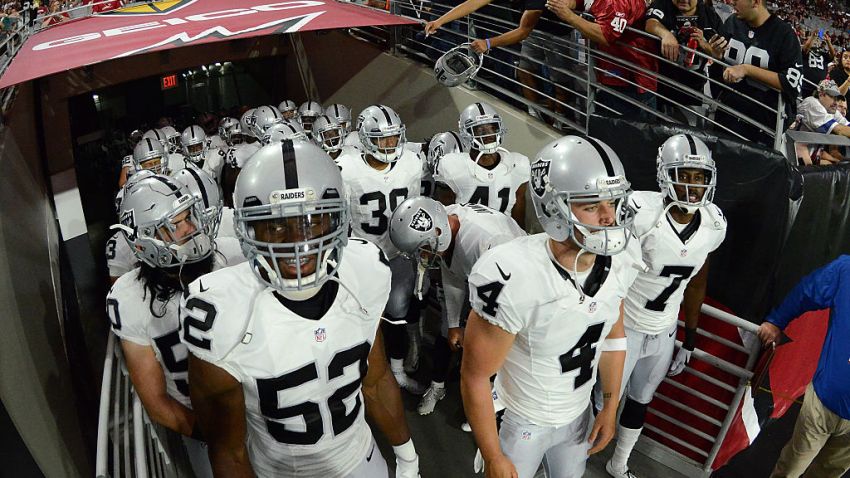 From 2012 through 2014, the Oakland Raiders were among the NFL's worst teams.
Over that three-season span, the Raiders were 11-37 and ranked among the league's least-effective teams on offense and defense. The quarterback position was a revolving door, high-priced veteran players were ejected in a salary-cap purge and early Reggie McKenzie drafts didn't yield the prime prospects needed to spark a franchise turnaround.
Wrote Gregg Rosenthal of NFL.com midway through the 2012 season: "There just aren't enough impact players on either side of the ball."
Yet all that began to change with McKenzie's draft class of 2014, which produced franchise cornerstones in Khalil Mack (defense) and Derek Carr (offense), as well as one of the league's top young offensive linemen in Gabe Jackson.
Now, after going 7-9 in 2015 and 12-4 in 2016, the Raiders roster looks nothing like it did in 2012, when it was one of the thinnest and least talented in pro football.
Today, many are predicting another trip to the playoffs and a possible Super Bowl for the Raiders in 2017.
And, the Raiders could be stocked for a long run of success, says former longtime Dallas Cowboys executive Gil Brandt, a senior analyst for NFL.com. Through the draft and free agency, the Raiders have numerous impact players and solid depth.
Brandt recently ranked the Raiders No. 4 in his evaluation of the NFL's 10 most talented teams.
Brandt cited that 2014 draft and the fact Oakland had seven Pro Bowlers in 2016, the most of any team.
"Veteran free agents Marshawn Lynch and Jared Cook will add even more punch to an offense that already boasted top-flight receivers Amari Cooper and Michael Crabtree," Brandt noted. "The biggest hole is at middle linebacker, where fifth-round pick Marquel Lee has as good a chance as anyone to start."
The Raiders' offense ranked No. 6 in the NFL in 2016, but the defense underperformed. Brandt believes McKenzie's top draft picks from 2016 and 2017 should help change that.
"Oakland really helped itself with the draft, selecting top-10 talent Gareon Conley at cornerback, while last year's first-round pick, safety Karl Joseph, should take another step forward in his first full, healthy season."
However, Brandt's top-10 teams assessment points out a problem for the Raiders if they hope to get to the Super Bowl this season. The AFC will be tough to conquer. According to him, the defending Super Bowl-champion Patriots still rank No. 1 in the NFL in talent, with the Pittsburgh Steelers a close second. Plus, within the Raiders' own division, the AFC West, the Kansas City Chiefs are also in the top 10, at No. 8.